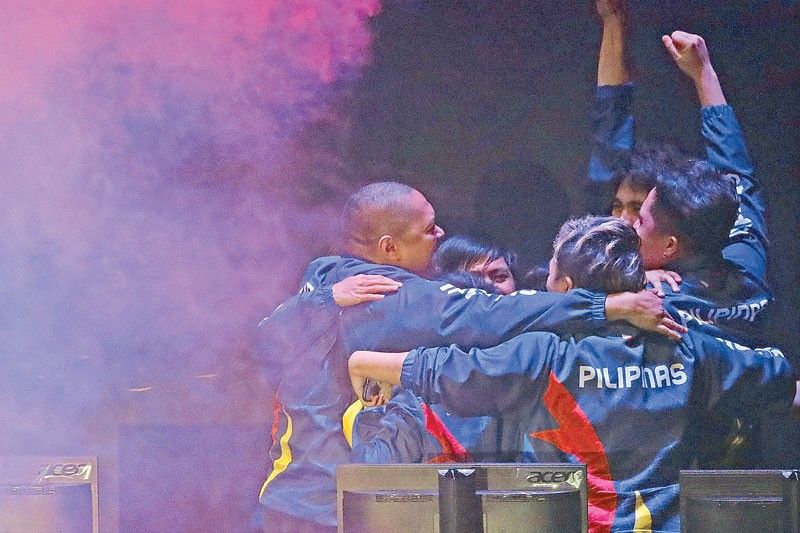 Team Philippines' Sibol celebrates golden-medal feat in the Mobile Legends: Bang Bang category in SEA Games eSports competitions at the Filoil Flying V Centre in San Juan late Sunday.
Edd Gumban
Sibol sprouts, fights, snares eSports gold
MANILA, Philippines — Cheers had long died down in various venues of Philippine triumphs Sunday when Sibol pulled off its own victorious feat in the wee hours, taking the first gold medal disputed in the debuting eSports in the Southeast Asian Games at the Filoil Flying V Centre.
Sibol's Mobile Legends BangBang team scored a come-from-behind 3-2 win over a tough Indonesian squad, making it a shining 24-gold effort in Team Phl's biggest haul in a day in the 30th edition of the biennial meet.
Team BangBang took first blood in the best-of-five showdown before losing the next two matches, thus, finding its back against the wall.
Egged on by the cheering home crowd, Karl Gabriel "Karltzy" Nepomuceno led the Phl team uprising, using Esmeralda and Lunox in the fourth and fifth games to steal the gold from the Indons.
Meanwhile, Malaysia automatically seized the bronze after losing to Team Phl in their lower bracket final.
Earlier, the Philippine Dota II eSports team asserted its mastery over Vietnam, pulling off an emphatic 2-0 victory in the upper bracket final.
The Pinoys were too much for the Viets, exerting their will to mark a historic feat in the land of electronic sports and advance to the gold-medal match versus Thailand.
Parading most players from a Cebu-based esports team – Adroit, the Filipinos were a dominant lot, continuing domination from a near sweep of their Day One assignments.
Midlaner Mc Nicholson Villanueva was a monster, leading the charge for the Philippines who collected 90 kills against the Viets' only 38 in a best-of-three series.
On the other hand, Thailand dispatched Laos, 2-0, to enter the finals of the Dota II event.
Moreover, Starcraft II 's Caviar "EnDerr" Acampado assured itself of at least a silver after winning over Vietnam's Tran, 3-2. Acampado will battle Singapore's Kopankiewicz in the gold-medal match on Dec. 10 at 10 a.m.