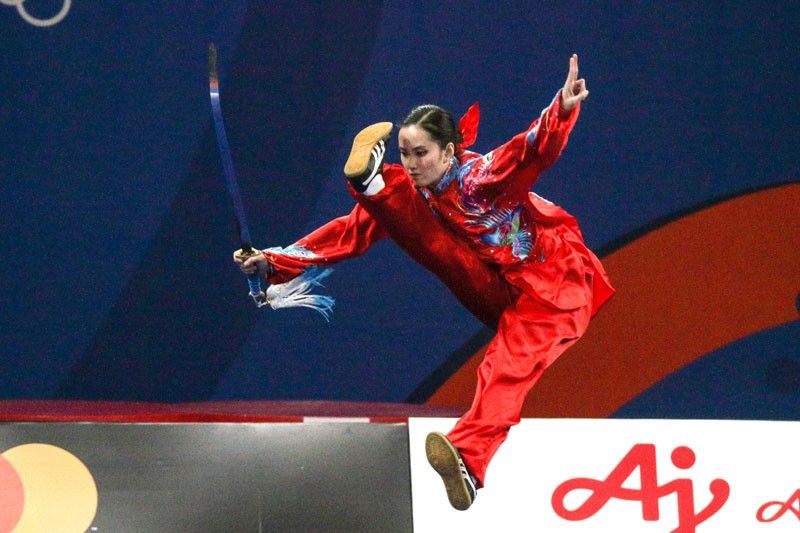 MANILA, Philippines — Wushu beauty Agatha Wong sustained her form and ruled the Taijijian event yesterday, becoming the first Filipino athlete to win two individual gold medals in the 30th Southeast Asian Games at the World Trade Center yesterday.
The 21-year-old Wong scored 9.65 points in the final round to edge the other competitors, completing a two-gold haul following her victory in women's Taijiquan Sunday.
"I'm really happy that I delivered the golds and I have no regrets today," said Wong after improving on her silver-medal finish in the last SEAG in Kuala Lumpur in 2017 where she yielded the gold to the now-retired Lindswell Kwok of Indonesia.
Vietnam's Thi Minh Huyen took the silver with 9.63 points while Basma Lachkar of Brunei scored 9.62 points for the bronze.
Though two pairs in the dance sport team racked up three golds and two other tandems pocketed two each to spark the Phl's golden rush Sunday with 10, Wong did it individually in an exploit that would net her a whopping P1.2 million in incentives.
Under Republic Act 10699, otherwise known as the National Athletes and Coaches Benefits and Incentives Act, each SEAG gold medal winner stands to receive P300,000 with the silver and bronze medalists to get P150,000 and P60,000, respectively.
To help motivate the Filipino athletes and fuel the country's drive for the overall championship, the Philippine Olympic Committee also promised to double the incentive for the gold medal performers.
President Duterte also promised to give more incentives to Filipino medalists, including conferring of the Order of Lapu Lapu Award on gold medal winners.