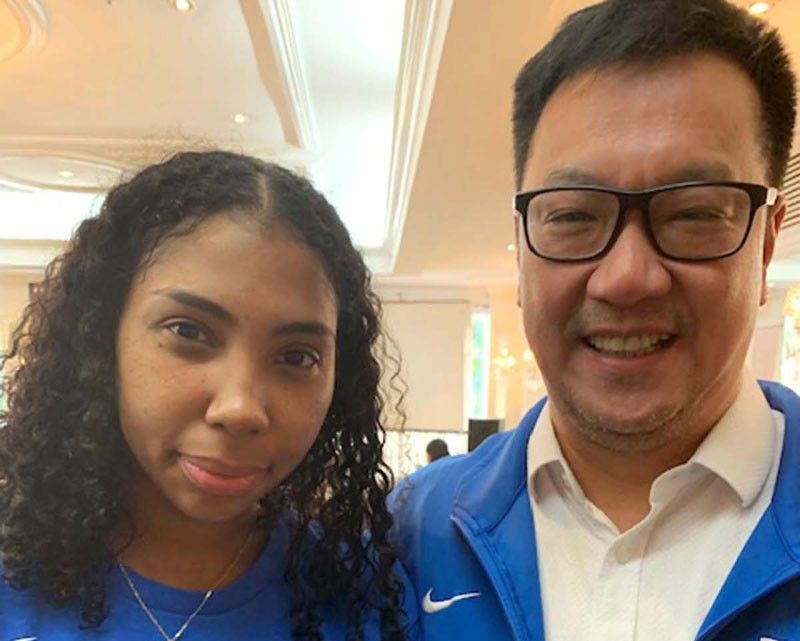 Kelli Hayes and coach Pat Aquino.
MANILA, Philippines — The hard work will be all worth it if and when the Gilas women's team finally bags its first-ever gold medal in the Southeast Asian (SEA) Games this year. Fil-Am Kelli Hayes, a 6-foot recruit from UCLA, said yesterday she's confident of breaking the championship jinx with coach Pat Aquino calling the shots.
Hayes, 23, joined Gilas last April and has played with the national team at the Jones Cup in Taipei, FIBA Asia Cup in India and the FIBA Olympic Pre-Qualifying tournament in New Zealand. She said the focus in the journey is to win the gold in the SEA Games where the Philippine women's team has collected six silvers and four bronzes without a gold in 16 appearances.
Hayes' parents Lonzell and Lani Inciong are arriving from San Jose, California next week to follow Gilas' quest. There are two golds at stake in women's basketball. In 3x3 to be played at the Filoil Flying V Arena in San Juan on Dec. 1-2, the Philippine squad of 6-5 Clare Castro, 6-5 Jack Animam, 5-8 Afril Bernardino and 5-5 Janine Pontejos will battle Thailand, Indonesia, Malaysia, Myanmar and Cambodia. The 5x5 competition will be at the MOA Arena on Dec. 4-10 with the Philippines up against Malaysia, Indonesia and Thailand. The Gilas women's lineup is composed of Castro, Animam, Bernardino, Pontejos, Hayes, Chack Cabinbin, Gemma Miranda, Andrea Tongco, Khate Castillo, Danica Jose, Ria Nabalan and Eunique Chan.
Aquino piloted Gilas to fourth place finishes in the last two SEA Games. In 2017, the Philippines came close to capturing the elusive gold medal but lost to champion Malaysia by four points. The K. L. organizers scheduled the Philippines to play Thailand at 8:15 p.m. on Aug. 23 while Malaysia took a one-day break then the next morning, at 11:15 a.m., the Philippines played a well-rested Malaysia. If the Philippines beat Malaysia, Aquino's charges would've taken the gold via the quotient system.
"No excuses but you wonder if the organizers deliberately scheduled the Philippines to play a hard game against Thailand late at night then the next morning, to play host Malaysia which was coming off a one-day rest," said Ever Bilena CEO and Gilas women's chief backer Dioceldo Sy. "We could've done the same to Malaysia in this year's SEA Games but that's not our style. We prepared long and hard for the SEA Games. We're ready to win."
Aquino said Hayes is one of his go-to gals. Since Hayes was "discovered" by Herson Sy during a UCLA tour of Australia in 2016, Aquino has tried to recruit her for Gilas. "Every year, I visited Kelli's family in the US and waited until she graduated," he said. "Finally, she agreed to join us as a one-and-done player for NU and with Gilas. Kelli will be a difference-maker for us in going for gold."
Hayes, the youngest of five children, earned a Genetic Studies degree at UCLA where she finished her four-year varsity career tied with Monique Billings for most games played at 141. As a senior in 2017-18, she averaged 6.2 points, shooting 34.8 percent from beyond the arc and 80 percent from the line while leading the team in three-point attempts with 138. Hayes deferred plans to attend a Master's program in Student Affairs at the University of Southern California to explore playing options in her mother's home country.
"It's a great opportunity to play for the Philippines, particularly at home in the SEA Games," she said. "I'm blessed to play for NU and to experience its legacy in the UAAP. I'm enjoying myself playing with my teammates and for coach Pat. After the SEA Games, I'll review what my options are, pray hard and hope to make the right decision."
Hayes said her boyfriend is former UCLA star Isaac Hamilton whose older brother Jordan played for Denver, Houston, L.A. Clippers and New Orleans in five NBA seasons. Her best friend Jordin Canada was a UCLA teammate and former WNBA player who saw action in Poland last season. "I visited Jordin in Poland and I plan to visit her again wherever she's playing next year," she said. "I don't know if she'd like to visit me in Manila because of the heat and traffic. I'm excited that my parents are coming to watch us play in the SEA Games."