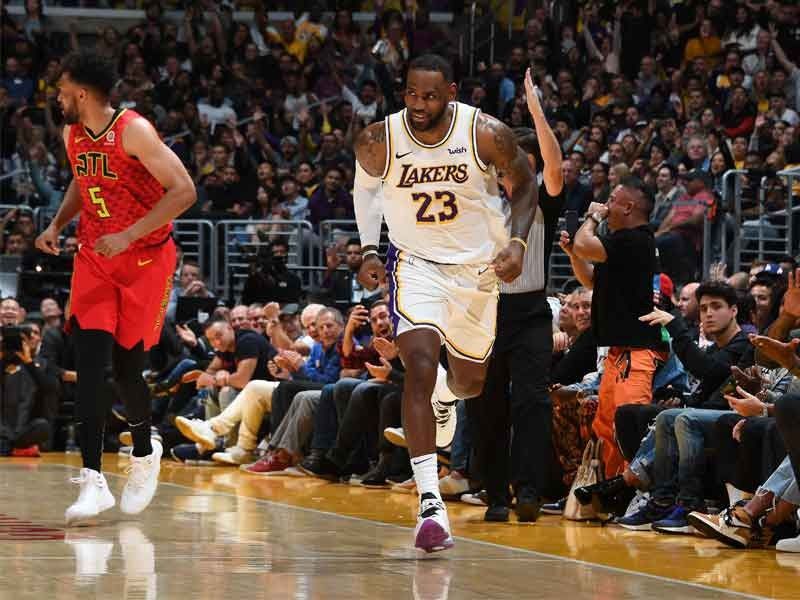 LeBron James of the Los Angeles Lakers runs down the court against the Atlanta Hawks on November 17, 2019 at the Staples Center in Los Angeles, California.
Andrew D. Bernstein/NBAE via Getty Images/AFP
LeBron powers Lakers past Hawks
(Agence France-Presse) - November 18, 2019 - 3:59pm
LOS ANGELES – LeBron James scored 33 points as the Los Angeles Lakers cruised to a 122-101 win over the struggling Atlanta Hawks at the Staples Center here Sunday (Monday, Manila time).
The Lakers jumped out to a 25-point lead in the first quarter and never looked back.
Rajon Rondo scored 15 points and Anthony Davis added 14 as the Lakers posted their 11th win in their last 12 games since a season-opening loss to the Los Angeles Clippers.
Trae Young scored 31 points and Cam Reddish added 13 as the Hawks lost their third straight game.
Atlanta was blown out in Los Angeles for the second consecutive night after losing by 49 points to the Clippers.
Also, Denver's Jamal Murray scored 39 points and Paul Millsap added 23 to lead the Nuggets over host Memphis 131-114 for their fifth win in six road contests. Jaren Jackson led the Grizzlies with 22 points.
Tobias Harris scored 27 points to lead six Philadelphia players in double figures as the 76ers rolled to a 114-95 triumph at Cleveland.
Cameroon center Joel Embiid added 14 points for the 76ers and Australia's Ben Simmons had 10 points and 11 assists for Philadelphia. Collin Sexton led the Cavaliers with 17 points.
With Orlando clinging to a three-point lead, Magic guard Markelle Fultz made a steal and dunk then sank a free throw with 36 seconds remaining to lift the hosts over the Washington Wizards 125-121 in a matchup of struggling Eastern Conference clubs.
Montenegrin big man Nikola Vucevic led Orlando (6-7) with 30 points and 17 rebounds while Frenchman Evan Fournier had 25 points and Fultz had a 45-game career-high 19 points for the Magic, who ended a 4-1 homestand.
Bradley Beal scored 34 points to lead Washington (3-8) and crack the NBA career 10,000-point mark.