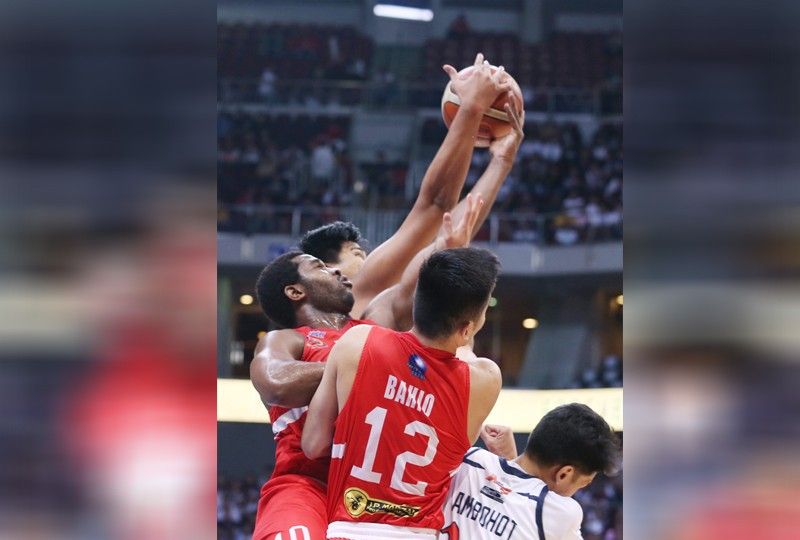 Donald Tankoua and JB Bahio of San Beda dispute the rebound against Jeo Ambohot and Larry Muyang of Letran in yesterday's thrilling contest.
JOEY MENDOZA
Joey Villar
(The Philippine Star) - November 16, 2019 - 12:00am
Games Tuesday (MOA Arena, Pasay City)
1 p.m. – San Beda vs LPU (jrs.)
4 p.m. – San Beda vs Letran (srs.)
San Beda relied on a heavy dose of luck with Calvin Oftana making the big shots and key defensive stops late as it survived Letran, 79-76, yesterday to force a deciding Game 3 in the 95th NCAA basketball tournament at the MOA Arena.
Trailing by two points, Oftana scored on a three-point play that gave the Lions the lead. Then the Lions foiled the Knights' last two possessions to tie the series at one game apiece and force sudden death on Tuesday.
San Beda was on the brink of defeat when it trailed by seven points with five minutes to go after getting buried by the barrage of triples unleashed by the fearless, energetic Fran Yu.
But Lady Luck smiled on the three-peat champions as Yu suffered cramps and was taken out with over three minutes remaining and never returned.
"We got lucky there when Fran Yu had cramps. He was really playing well until that unfortunate incident," said San Beda coach Boyet Fernandez, who is eyeing to steer the school to a league-best 23 crowns.
"But the boys never gave up also. Calvin had a big play and we made key stops. Those things really helped us," he added.
It was an MVP play for Oftana, who redeemed himself after missing a potential game-winning three-point attempt in a heartbreaking 64-65 defeat in the opener Tuesday.
"It was a shot I usually make but I missed it. After that, I was already thinking about Game Two," said Oftana, a 23-year-old Siaton, Negros Oriental native who received his MVP trophy in simple awarding rites earlier.
For a while, Letran seemed headed to sweeping San Beda in the finals after the latter swept the elimination round in 18 games. But Oftana had other things in mind.
The Scores:
San Beda 79 – Canlas 21, Oftana 17, Doliguez 17, Carino 7, Nelle 5, Soberano 5, Cuntapay 3, Tankoua 2, Abuda 2, Bahio 0, Noah 0
Letran 76 – Yu 23, Muyang 17, Batiller 11, Ambohot 9, Balanza 9, Caralipio 7, Olivario 0, Ular 0, Mina 0, Reyson 0, Balagasay 0, Sangalang 0
Quarterscores: 18-7; 37-25; 53-56; 79-76