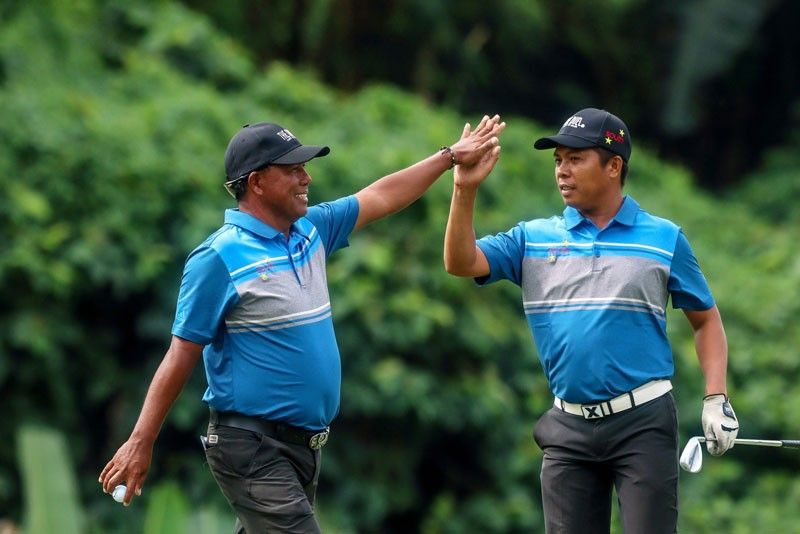 Veteran Tony Lascuña gives Team South teammate Nilo Salahog a high five after their dominant win over Michael Bibat and Jun Bernis of Team North.
Lascuña gives South early lead over North
Dante Navarro
(The Philippine Star) - November 14, 2019 - 12:00am
STA. ROSA, Laguna, Philippines — Team South romped off with two emphatic victories and pulled off another pair of rallies as it seized a 4-2 lead over North in the opening four-ball of The Duel North vs South VI at Sta. Elena Golf Club here yesterday.
Multi-titled Tony Lascuña sustained his top form coming of back-to-back victories at Apo and South Pacific to close out the 10th season of the Philippine Golf Tour as he combined with first-timer Nilo Salahog to produce a lopsided 6&5 rout of Michael Bibat and Jun Bernis and set the tone for the three-time champions' surge in the country's version of the Ryder Cup.
Rufino Bayron and Jhonnel Ababa also came away with a similar convincing 4&3 victory over James Lam and Fidel Concepcion to give the Southerners an early cushion in the three-day tournament featuring the top players on the Order of Merit ranking after the PGT season.
North, which upstaged its star-studded counterparts from the Visayas and Mindanao in the foursomes and four-ball on its way to scoring a three-point win at John Hay last year and cutting the ICTSI-sponsored series' lead to 2-3, did fight back to draw level at two matches but Team South won the last two pairings to take charge in better-ball play.
"We dominated them," said Lascuña, who hit four birdies inside eight feet on Nos. 5, 6, 9 and 12 in ideal conditions in a solid team-up with Salahog, No. 11 in the OOM who delivered four birdies on Nos. 3, 4, 8 and 10 from 10 feet.
But South coach Charles Hong pointed to his wards' persistence as key to their opening round romp plus sheer determination.
"The key was patience. Despite being down early in the round, they guys just relied on each other and remained patient throughout," said Hong. "They knew their skills would just take over the matches."
Down two matches, North struck back behind Justin Quiban and Eric Gallardo, who ripped Zanieboy Gialon and Jerson Balasabas, 4&2, and Keanu Jahns and Gerald Rosales, who crushed Jay Bayron and Reymon Jaraula, 3&2. But the Southerners regained control as Elmer Salvador and Reymon Jaraula recovered from a shaky start to edge Ira Alido and Mars Pucay, 2&1, and Arnold Villacencio and Rene Menor won the last hole to complete a 2-up reversal over Jobim Carlos and Joenard Rates.
Hong also cited Villacencio's gutsy play after the latter bucked illness and helped produce a point for the team.
"One particular standout was Arnold (Villacencio). He played sick yet both he and Menor managed to score a point for the team," said Hong.
North counterpart Cookie La'O said his wards dished out the games he had expected of them but were just simply outplayed by their rivals in the end.