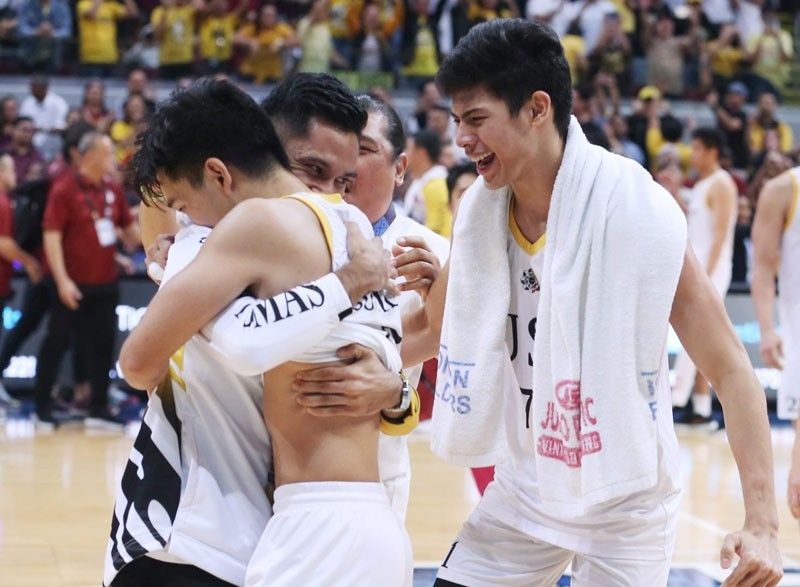 UST hero Renzo Subido, right, is locked in an embrace with a team member in their victory celebration at the buzzer.
Joey Mendoza
4th seed UST completes climb to finals
MANILA,Philippines — Underdog Santo Tomas achieved the improbable, surviving three knockout games in a week an amazing feat punctuated by a 68-65 win in a sudden death over No. 2 UP to claim the last berth in the 2019 UAAP Finals before a crowd of over 18,000 at the MOA Arena in Pasay City last night.
After trouncing No. 3 Far Eastern U in the first phase of the stepladder semifinals, the Tigers stepped up even more, overcoming the Maroons' huge twice-to-beat advantage to set the Last Dance with the Ateneo Eagles.
Game One of the best-of-three finale is Saturday at the Smart Araneta Coliseum.
Season MVP Soulemane Chabi Yo carried Santo Tomas for the most part of the game with 22 points and 16 rebounds then graduating player Renzo Subido seized the moment in the crunch, firing the go-ahead three-pointer in the last 23.6 seconds.
Subido, with his giant heart, finished with 14 points on four treys along with four rebounds and two assists.
Rookie of the Year Mark Nonoy (12) and Rhenz Abando (11) had their usual scoring contributions for the Tigers who kept their hopes of ending a 13-year championship drought or since last ruling the UAAP in 2006.
"That's a good game. We have to give credit to coach Bo (Perasol) and his coaching staff for the adjustments they made. It was really tough for us because of those adjustments. We tried to counter but we're just not making our shots," said coach Aldin Ayo.
"But I kept on telling the boys that don't hesitate to shoot, keep shooting because that's our shots. In the end, it boiled down to breaks of the game, and thankfully, we managed to secure it," added Ayo.
They scored a follow-up to their 89-69 rout in Game One and comleted a four-game season sweep of the Maroons.
Riding high on that massive Game One win, the Tigers looked headed for another blowout win until the Maroons fought back to inch to within 28-29 at the break.
Santo Tomas managed to keep hold of the lead until early in the fourth period before UP had a big move, pulling ahead, 59-57, on a Juan Gomez de Liano jumper.
The Maroons, banking on their end-game brilliance all season long, dictated the match from there on against the misfiring Tigers as Kobe Paras converted a roaring baseline slam dunk for the Maroons' biggest cushion at 65-61, with 1:53 to go.
But UP failed to seal the deal, living an opening pounced on by the roaring Tigers.
The Maroons had a chance to send the game into overtime but James Spencer missed a three-point try in the closing seconds.