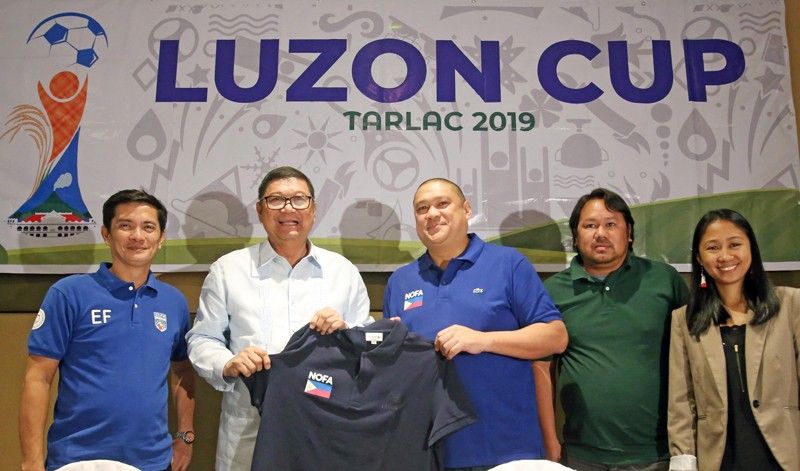 PSC chairman William Ramirez (left) and NOFA president Ricardo Yanson Jr. share the stage during yesterday's press launch.
Jun Mendoza
PSC throws full support to Luzon Cup
MANILA, Philippines — With the support of the Philippine Sports Commission (PSC), it's all systems go for the Luzon Cup later this month, an event organized by the Negros Occidental Football Association (NOFA) and the Central Luzon Football Association (CLFA) in a bid to further hone the sport's grassroots development in the country.
The Luzon Cup, which is a follow-up to the NOFA Cup held in Bacolod last May and the Mindanao Cup hosted by Davao just last month, is expected to gather 15 football associations around Luzon in the inaugural 12-under, nine-a-side football tournament slated Nov. 21 to 24 at the Jose V. Yap Sports and Recreational Park in San Jose, Tarlac.
Also in the fray is Mindanao Cup champion Bukidnon Football Association, which will be flying all the way from the South to test its mettle against the North's best young footballers to complete the 16-team tourney.
NOFA president Ricardo 'Ricky' Yanson Jr., who conceptualized this three-leg nationwide football tournament for aspiring booters, is confident of the successful staging of Luzon Cup especially with the backing of PSC, CLFA, City of Tarlac, Province of Tarlac and the Department of Education as part of its vision for the Philippine football grassroots development.
"This is one of the few steps we all need to take for football to be enjoyed and played throughout the country. We want more Filipinos to enjoy football and we believe that more football development programs will eventually mean more lasting success in the international arena," said Yanson, who is hoping to make this dream happen with his bid for the Philippine Football Federation (PFF) presidency later this month.
The PSC, which has the same mandate of strengthening the country's grassroots development of all sports, is all in for Yanson's football vision.
"I'm committed to support him wherever he brings football. I'm supporting him and all the football activities in the region," said PSC chairman William Ramirez, who served as the guest of honor and speaker in the event also attended by CLFA head Ed Flaminiano, football advocate Alvin Ocampo and Gawad Kalinga's Marlyn Importante.
Ramirez also offered the Rizal Memorial Stadium as the venue for national football championship early next year.