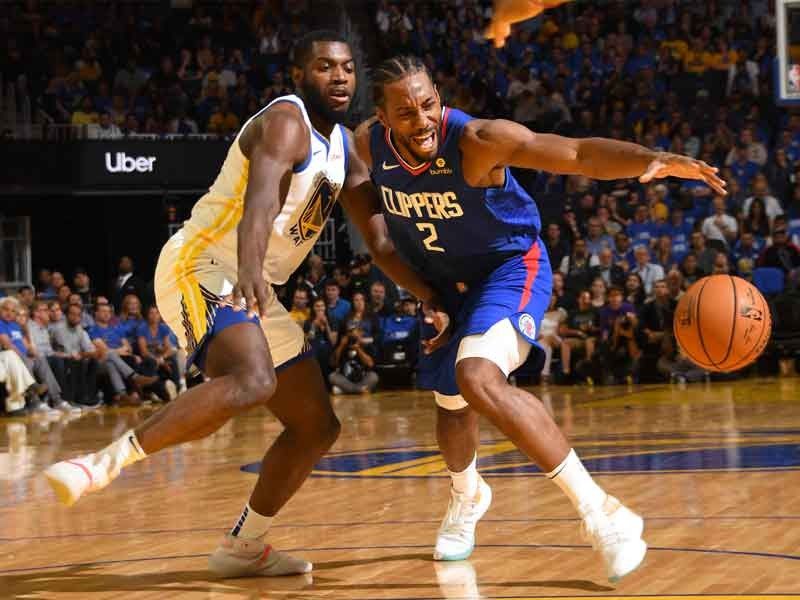 Kawhi Leonard of the LA Clippers fights for the ball against the Golden State Warriors on October 24, 2019 at Chase Center in San Francisco, California.
Andrew D. Bernstein/NBAE via Getty Images/AFP
Surging Clippers thrash Warriors
(Agence France-Presse) - October 25, 2019 - 3:33pm
LOS ANGELES – The long-dominant Golden State Warriors got a taste of what could be a tough road ahead as they fell to the ascendant Los Angeles Clippers, 141-122.
In the first game in their glitzy new $1.4 billion Chase Arena in San Francisco, the Warriors —now without departed free agent Kevin Durant and injured Klay Thompson — were no match for a Clippers team bolstered this offseason by the arrival of Kawhi Leonard — who was on the Toronto Raptors team that beat the Warriors in the NBA Finals in June.
Leonard followed up his 30-point performance in a season-opening win over the Los Angeles Lakers with 21 points, but it was Lou Williams who led the Clippers in scoring with 22 off the bench.
"We're not surprised," Williams, 32, said of the new-look Clippers' strong start. "We've just got to keep building.
Los Angeles made 62.5 percent of their shots, including 54.5 from 3-point range.
The Warriors, in contrast connected on just 39.4 percent from the floor with Stephen Curry finishing with a team-high 23 points.
Carter launches 22nd season
Atlanta's Trae Young opened his second NBA season with a 38-point outburst for the Hawks in a 117-100 victory over the Pistons in Detroit.
Young said he was "a lot more comfortable" than he was coming into his rookie season a year ago and it showed as he connected on 11 of 21 shots from the field, including six of 10 from 3-point range.
That included a bomb from near half-court in the second quarter.
While Young was getting his second season off to a rousing start, teammate Vince Carter became the first player to compete in 22 NBA seasons when he came off the bench late in the first quarter.
"We've got a bunch of guys who weren't even born when he started," Hawks coach Lloyd Pierce noted of Carter, the 1999 Rookie of the Year.