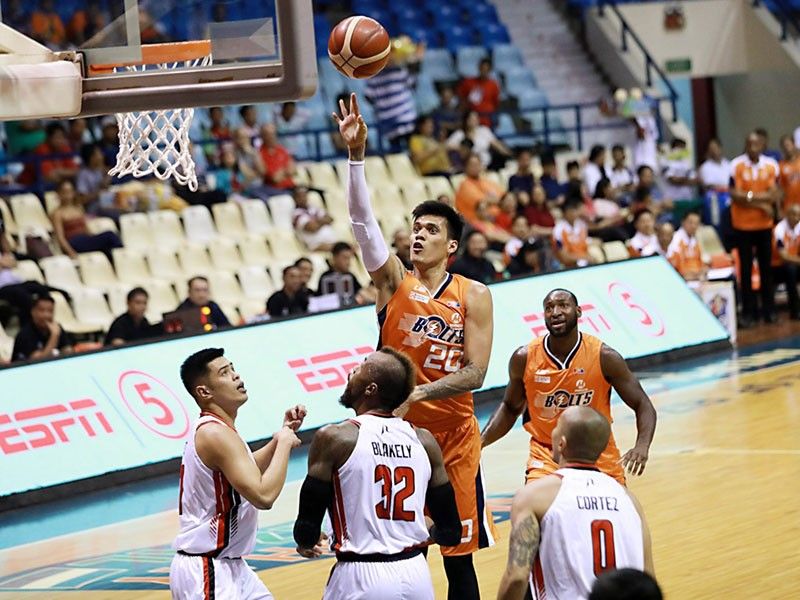 Meralco's Raymond Almazan pulls up for a one-hander versus Blackwater's Carl Bryan Cruz, Marqus Blakely and Mike Cortez with Bolts import Allen Durham looking on.
PBA
Durham, Bolts bounce back
Olmin Leyba
(The Philippine Star) - October 19, 2019 - 12:00am
ANTIPOLO, Philippines — Meralco stormed to an early 10-point lead and followed through to the very end this time to claim a 106-97 victory over Blackwater and firm up spot in the Top Four in the PBA Governors' Cup at the Ynares Sports Center here.
The Bolts, who previously bungled a huge margin in a 113-116 defeat to TNT last week, leaned on Allen Durham's all-around showing and the clutch three-point shooting of Bong Quinto, John Pinto and Baser Amer in the payoff period to get back on track and go 4-2.
"We wanted to bounce back from our last loss which we thought we had a chance of winning but ended up a little short. So the focus was to go out and get it done," said Meralco coach Norman Black.
"It didn't really matter whether it's pretty or not, just go out and defend and win the game. That was really the focus," he added.
Durham produced a 27-point, 13-rebound, seven-assist, two-block performance to power Meralco to the bounce-back win. He got offensive support from Raymond Almazan (19-10), Amer (17) and KG Canaleta (13, all in the second quarter).
The Bolts seized control via a Canaleta-led run in the second, 50-40.
Later, KJ McDaniels saved TNT from the blushes, taking charge in overtime as the KaTropa escaped Alaska's upset bid, 99-93, to make history as the first squad to start at 7-0 in the league's 12-team era.
Dodging the bullet when Jasper Ayaay missed the potential winning layup for the Aces in regulation, the KaTropa turned to McDaniels for the finishing touches with the prolific import firing eight of his 37 in extra time.
Troy Rosario added 23, including a dagger putback off a Jayson Castro miss with 54 seconds left in OT, to help TNT stay spotless while sending Alaska to 1-6.
and never relinquished the upper hand from thereon. The Elite would repeatedly threaten to within three or four but each time, Black's charges launched a counter-attack to restore a double-digit spread.
Protecting a slim 80-76 cushion early in the fourth, the Bolts unloaded five triples heading home to secure the crucial victory that put them in good position in the race for the Top 4.
"The goal is to try take advantage of the format which is Top 4 teams get twice-to-beat (advantage in the quarterfinals). So we're trying to stay within the Top 4. We know it's going to be very difficult so we just want to win games we thought we can go out and win," said Black.
Marqus Blakely dished out a 15-17-7 statline while Mike Digregorio topscored with 22 spiked by a 6-of-7 three-point shooting for the Elite, who failed to follow up their 95-89 win over Magnolia two nights ago and fell to 3-3.
Notes: In a bid to save its Governors Cup campaign, skidding Rain or Shine decided to make an import change, bringing former NLEX reinforcement Kwame Alexander to replace Kayel Locke. The E-Painters pin their hopes on Alexander, who was good for norms of 20.3 points, 14 rebounds, two assists and 1.6 blocks in his NLEX stint in 2015, as they try to arrest a four-game skid and revive their playoffs bid. Locke, himself a replacement for original import Joel Wright, failed to lead ROS to victory in his three-game stint, their last loss at the hands of erstwhile winless Alaska. He averaged 22.3 markers, 9.67 boards and two dimes.
The scores:
First Game
Meralco 106 – Durham 27, Almazan 19, Amer 17, Canaleta 13, Newsome 8, Quinto 8, Pinto 7, Faundo 3, Caram 2, Hugnatan 2.
Blackwater 97 – Digregorio 22, Blakely 15, Parks 12, Maliksi 12, Al-Hussaini 11, Belo 10, Cortez 4, Cruz 3, Desiderio 2, Sena 2, Sumang 2, Alolino 2.
Quarterscores: 22-20, 56-50, 80-74, 106-97
Second Game
TNT 99 – McDaniels 37, Rosario 23, Pogoy 12, Castro 8, Trollano 8, Heruela 3, De Leon 2, Taha 0, Carey 0, Vosotros 0.
Alaska 93 – House 16, Casio 16, Banchero 13, Enciso 12, Ayaay 9, Teng 8, Tratter 7, Racal 5, Manue 4, Galliguez 3, Thoss 0.
Quarterscores: 24-25, 51-47, 70-67, 89-89, 99-93