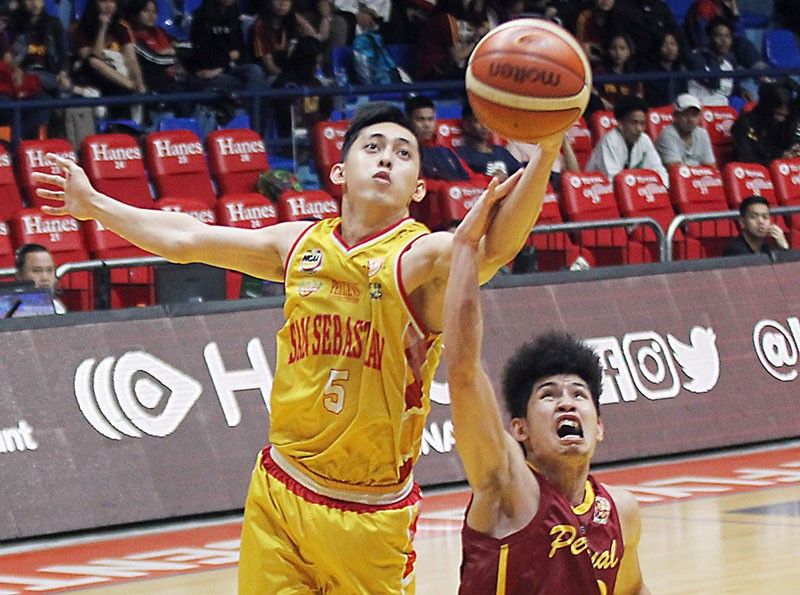 SSC's Allyn Bulanadi skies high versus Perpetual's Edgar Charcos in a rebound play.
Jun Mendoza
Stags join Knights, Pirates in stepladder semis
Joey Villar
(The Philippine Star) - October 19, 2019 - 12:00am
MANILA, Philippines — Allyn Bulanadi unleashed a career-high 44-point performance as San Sebastian turned back Perpetual Help, 99-94, yesterday to clinch the last semifinal ticket in the 95th NCAA basketball tournament at the Filoil Flying V Centre in San Juan City.
Bulanadi tossed in 14 in the first quarter, slowed down in the second with five before going on a barrage again in the final two quarters to power the Stags to an 11-7 (win-loss) record and back to the semis after missing the cut last year.
In the stepladder semis, SSC will tackle No. 3 Letran (12-6) on Nov. 5 for the right to play No. 2 Lyceum (13-5) with the winner clashing with San Beda for the crown.
The Lions gained automatic entry into the best-of-three finals following an 18-game sweep in the elims.
Bulanadi ended up with an efficient 14 of 26 from the field including seven of 12 from beyond the arc and a perfect nine of nine from the stripe. He also spiked his game with eight rebounds, four assists and a steal.
But his biggest moment came in the stretch when he scored five straight points on two foul shots and a booming triple to shatter an 88-all deadlock.
The Stags then held on to gain the semis clincher.
Bulanadi's explosion was the fifth highest output in a game behind the 55 and 54 by the late La Salle great Lim Eng Beng in the early 70s, 50 by San Beda's Robert Bolick last year and 48 by Jose Rizal's John Wilson a decade back.
Later on, St. Benilde finished with a 9-9 slate after a 68-62 win over Mapua.
The scores:
First Game
San Sebastian 99 – Bulanadi 44, Ilagan 22, Capobres 10, Calma 6, Villapando 6, Calahat 6, Tero 3, Sumoda 2, Isidro 0, Cosari 0, Desoyo 0, Altamirano 0
Perpetual 94 – Charcos 22, Aurin 20, Razon 18, Peralto 10, Adamos 8, Martel 6, Giussani 6, Sevilla 2, Tamayo 2, Lanoy 0, Cuevas 0
Quarterscores: 27-18; 48-44; 76-65; 99-94
Second Game
St. Benilde 68 – Haruna 13, Leutcheu 8, Young 8, Gutang 8, Naboa 8, Flores 6, Belgica 5, Dixon 4, Mosqueda 3, Nayve 3, Lim 2, Carlos 0
Mapua 62 – Lugo 13, Serrano 11, Aguirre 10, Bunag 9, Gonzales 7, Bonifacio 7, Victoria 3, Nocum 2, Gamboa 0, Nieles 0, Salenga 0, Jabel 0, Garcia 0
Quarterscores: 22-19; 35-29; 52-44; 68-62
Third Game
JRU 77 – Dela Rosa 21, Miranda 13, Vasquez 13, Aguilar 10, Jungco 6, Arenal 4, Amores 4, Dionisio 2, Abaoag 2, Macatangay 2, Delos Santos 0
AU 73 – Salado 22, Alcoriza 20, Arana 8, Concepcion 5, Santos 5, Oliva 5, Sablan 3, Espiritu 3, Bayla 2, Talampas 0
Quarterscores: 13-18; 35-38; 55-56; 77-73