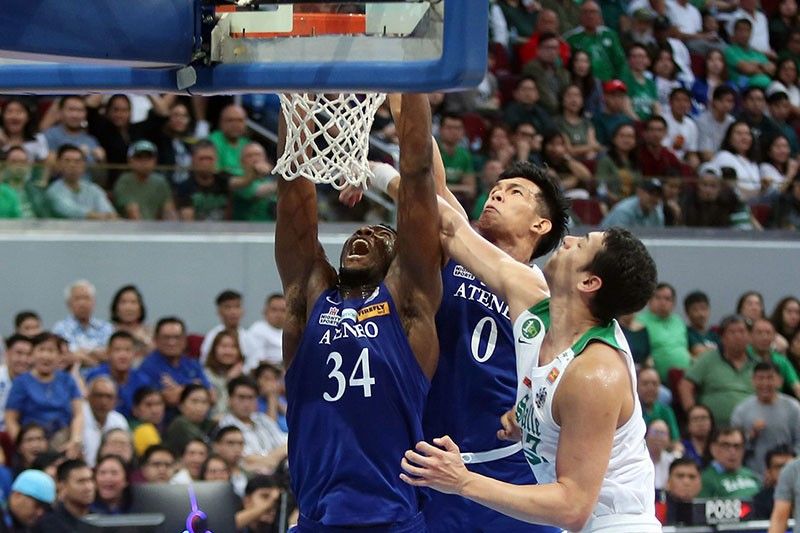 Ateneo's Angelo Kouame and Thirdy Ravena and Brandon Bates of La Salle all soar high in a rebound battle.
Jun Mendoza
Eagles soar to final Four
MANILA, Philippines — Unbeaten Ateneo once again asserted its might versus La Salle, repeating with a 77-69 win to claim the first Final Four seat in the 82nd UAAP men's basketball tournament at the MOA Arena yesterday.
Challenged by the Green Archers' several uprising attempts, the Blue Eagles took care of business and scored their 10th straight win, moving four games away from a sweep in the double-round elims.
Adrian Wong chalked up 18 points on four triples including the big trey in the last two minutes to cap the Eagles' 10-3 killer run sending the Archers to a fifth loss against four wins.
Thirdy Ravena fired 13 markers and added seven boards while Ange Kouame piled up 10-14-3 for the three-peat seeking Ateneo which bagged its 20th straight win from last season.
But coach Tab Baldwin was far from being contented as securing a Final Four berth is just part of their ultimate championship goal.
"The focus is on the next game. We don't worry what has been accomplished. We just need to keep playing, keep winning and keep striving to get better. We don't stop. We're not thinking about playoffs. We accomplished that (Final Four) but that's not the goal yet," he said as the Eagles set sight in mopping up the whole elimination round with four games left against FEU, UE, NU and UP.
Meanwhile, LJ Gonzales poured in 17 points and six rebounds as Far Eastern U gained a piece of third spot with latest victim Santo Tomas after running away in the final canto on the way to a 72-58 victory over the Tigers.
Royce Alforque (16), Alec Stockton (10) and Rey Bienes (9) put in key support for the Tamaraws who bounced back from their tough 85-79 overtime loss against NU earlier this week to improve at 5-5.
"We've proven that we can compete with the top teams but we're hoping that we can do that on a consistent basis," said FEU coach Olsen Racela.