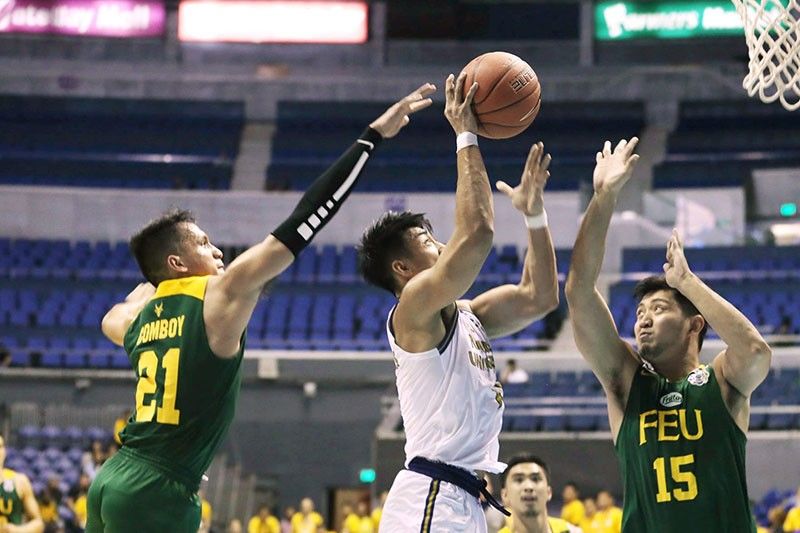 NU's Shaun Ildefonso tries a onehander against FEU's Rey Bienes.
Joey Mendoza
There's still no stopping mighty Eagles
MANILA, Philippines — Unbeaten champ Ateneo zeroed in on an outright Final Four entry in the 82nd UAAP men's basketball tournament as it repeated over Adamson, 80-74, behind a big third-quarter salvo at the Smart Araneta Coliseum yesterday.
The Blue Eagles unleashed a 29-point rampage to seize control in the third period, then held off the Falcons' comeback bid at endgame to stretch their streak to nine games.
Skipper Thirdy Ravena churned out a season-high 23 points, four rebounds and five assists while William Navarro chipped in 11 points and four blocks and Matt Nieto and Matthew Daves added 11 and 10, respectively, for Ateneo.
"Adamson came with a great game plan and they did a great job. They played 40 minutes of tough basketball. I think in the first half, we're pretty ordinary but in the third quarter, we came out with some purpose and then we just really survived Adamson in the end," said coach Tab Baldwin.
Val Chauca piled up 17 points, seven rebounds and four assists while Jerrick Ahanmisi fired 17 including a huge trey in the last 18 seconds, enabling the Falcons to close in at 71-75 before eventually dropping down to seventh place with a 3-6 card.
Earlier, Santo Tomas clicked from all cylinders and reclaimed third spot after decimating UE, 101-73, while NU kept mastery of FEU with a stunning 85-79 overtime victory.
After an all-day struggle against Ateneo, Tigers sharpened their fangs, racing to a 55-28 halftime lead over the streaking red-hot Red Warriors.
MVP frontrunner Soulemane Chabi Yo turned in 22 points, 14 rebounds and two assists as he regained his fiery form after a paltry six-point output against the Eagles while Zach Huang tallied a career-best 22 points for Santo Tomas which was the first team to breach the 100-point mark this season.
"One of the factors for us was we're able to release the pressure. I just told the boys to go back to having fun while playing," said UST coach Aldin Ayo.