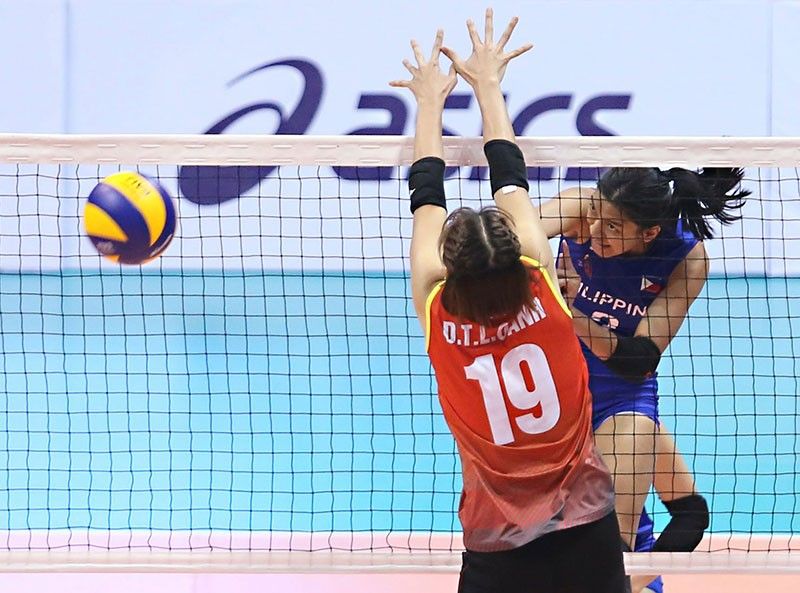 Alyssa Valdez of the Philippines powers her way through the Vietnamese defense.
Russel Palma
Philippine spikers master Vietnamese rivals
MANILA, Philippines — The Philippine women's volleyball team asserted its mastery over Vietnam, 25-21, 25-23, 25-21, yesterday to kick off its ASEAN Grand Prix hosting in front of a wild homecrowd at the Sta. Rosa Multipurpose Sports Complex in Laguna.
Star spiker Alyssa Valdez announced her return to the national team in style, hammering 14 points on 12 hits and two service aces to lead the Pinay spikers to a repeat win over the Vietnamese, whom they defeated in the bronze-medal match in the first leg in Thailand a few weeks ago.
Ces Molina and Mylene Paat chipped in 13 apiece while Majoy Baron added nine on three blocks in the Nationals' big win.
Dawn Macandili supplied them with 22 digs and 11 receptions while Jia Morado provided 17 sets as the Nationals got off to a hot start in a bid to improve on their bronze-medal finish last time and boost their morale heading to the 30th Southeast Asian Games (SEAG) in December.
"We're happy to get this win especially with the support of our home fans. We lacked preparation that was overshadowed by the heart and desire of our players. Props to my players for displaying that fight and sticking to our game plan," said coach Shaq delos Santos.
After taking care of the opening frame , the Filipinas got stunned with a 5-1 start by Vietnam in the second set before rediscovering their fiery form led by Valdez to still take a close set, 25-23.
Though the Vietnamese tried to go fire-with-fire with the hosts minus their star player Thi Thanh Thuy Tran, who is playing in the Japan V. Premier League, the Filipinas proved to be the steadier team down the wire as they recovered from a wasted 16-10 lead with a strong finishing kick capped by the heroics of Baron and Paat to take the clincher.
Thi Kieu Trinh Hoang and Tu Linh Tran led the way with 14 and 10 markers for Vietnam, which remained winless in four matches dating back to the first leg.
The Philippines seeks a massive upset over SEA Games gold medallist Thailand today in a bid to make the finals while Vietnam aims to bounce back against first leg silver medal winner Indonesia.