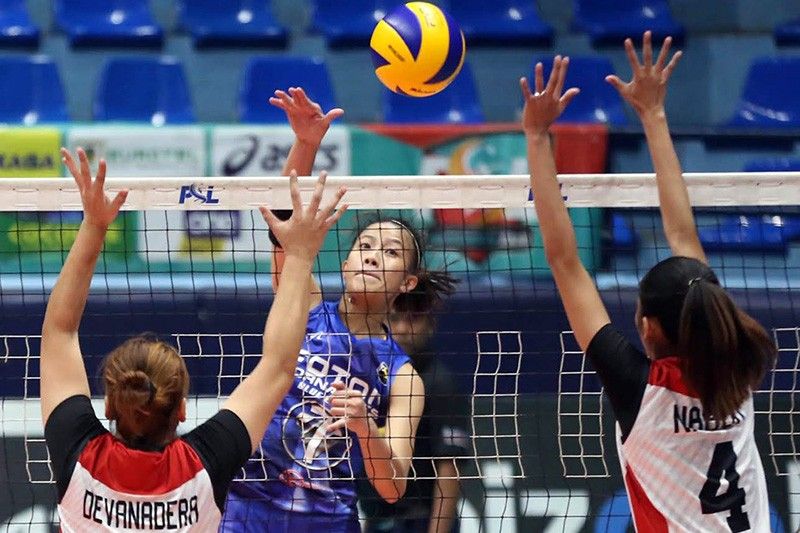 EJ Laure of Foton puts one in against Sasa Devanadera of PLDT Home Fibr last Monday. Foton won, 25-15, 25-20, 25-18.
Jun Mendoza
Cignal keeps perfect slate
MANILA, Philippines – Unbeaten Cignal HD rolled past Sta. Lucia, 25-18, 25-23, 25-14, to complete Pool A sweep in the Philippine Superliga Invitational Conference yesterday at the Sta. Rosa Multipurpose Sports Complex in Laguna.
National team member Mylene Paat checked in 12 points on nine hits, a block and two service aces to banner the HD Spikers, who needed only 68 minutes to score their third victory in as many outings after scoring similar three-set wins against PLDT and Foton.
Team captain Rachel Ann Daquis added 10 with libero Jeck Dionela supplying 17 digs and facilitator Alohi-Robins Hardy dishing 14 sets as Cignal HD extended its fine showing this tournament after an amazing runner-up finish in the last All-Filipino Conference.
"We can't afford to be complacent as all teams got better and stronger. That second-set scare was a wake-up call for us. We should work on those errors if we wish to compete for the championship again," said Daquis as the HD Spikers had no trouble dumping off the Lady Realtors except for a close 25-23 count in the second set.
Cignal will carry it's pristine 3-0 slate onto the next phase where it will be joined by fellow Pool A team PLDT together with Pool B squads Petron and Marinerang Pilipina in the newly-formed Group C.
The new bracket will determine the top two squads advancing to the semi-finals against the best two from Group D, which has Foton and Sta Lucia (from Pool A) together with F2 Logistics and Generika-Ayala (from Pool B).
Skipper Pam Lastimosa piled up 13 markers for the Lady Realtors, who suffered their second straight loss to fall to 1-2 heading into the next stage.
Meanwhile, PLDT star spiker Grethcel Soltones and playmaker Jasmine Nabor were picked to bolster the Philippine women's volleyball team, which is set to play in the second leg of the ASEAN Grand Prix set Oct. 4-6 at the Sta. Rosa Multipurpose Complex in Laguna.