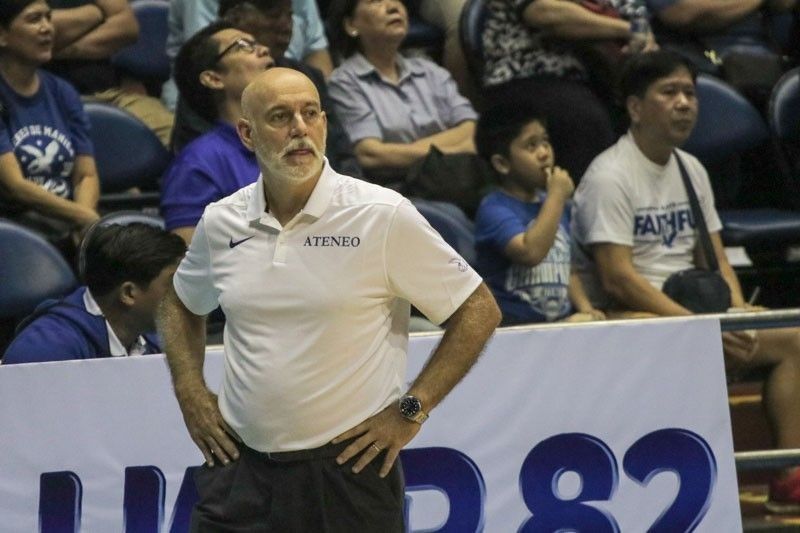 Ateneo's Tab Baldwin looks on during the Blue Eagles' clash with rivals De La Salle University on Sunday, September 8, 2019.
Philstar.com/Efigenio Christopher Toledo IV
Ateneo's Tab Baldwin eyed as Gilas program coordinator
MANILA, Philippines — With Gilas Pilipinas' FIBA World Cup appearance seen as a must, the Samahang Basketball ng Pilipinas (SBP) is determined to run a long-term national team program that will involve a "dedicated" national training squad with a pool of naturalized players to be handled by a Euro basket-oriented coach.

SBP chairman Emeritus Manny V. Pangilinan said they are planning form a search committee that will identify good prospects to coach the team.

"We're better organized in 2014 (than in 2019). We should be better prepared in 2023 and all the way to 2027," said Pangilinan.

To help achieve this, Pangilinan's idea is to have a program director apart from the head coach.

"The program director is to oversee the program, do the planning, the budget. We should run it like a business," said cage patron.

With his vast knowledge of international play, Ateneo Blue Eagles coach Tab Baldwin is being eyed by SBP to be the program director. And Baldwin could also be part of the search committee along with former Gilas coach Chot Reyes.

"The program will drive the selection of the coach. So we have to conceptualize the program, the kind of qualities that we want to see from a coach," Pangilinan said.

SBP president Al Panlilio sees a bumper crop of young talents for the pool, including Gilas Youth behemoth Kai Sotto and AJ Edu. There's also the list of collegiate players that they included in the 24-man pool for the SEAG likely to be handled by coach Tim Cone.

A big concern is the cooperation of the collegiate leagues since SBP plans to expose the Gilas pool to international training and tourneys for a certain period each year.

"It's got to be '23 all the way to '27," Pangilinan insisted of the program they're crafting to help keep the Philippines' place among the World Cup regulars

"We should qualify in each World Cup. Our ranking should improve even if it's incremental na lang," said the businessman/sportsman also known as Mr. MVP. "When we started (at SBP as the national cage federation), we're No. 64. Now, we're down to 32. Hereafter, it would be a slow progress."

Glimmer of hope for Pangilinan were the performances of some teams in the China world joust that competed well despite their height handicap. He mentioned Argentina and Dominican Republic.

"They're not really big, but they're speedy," said Pangilinan.

Pangilinan on Friday also bared that Barangay Ginebra coach Tim Cone is the frontrunner to replace Yeng Guiao as Gilas coach.