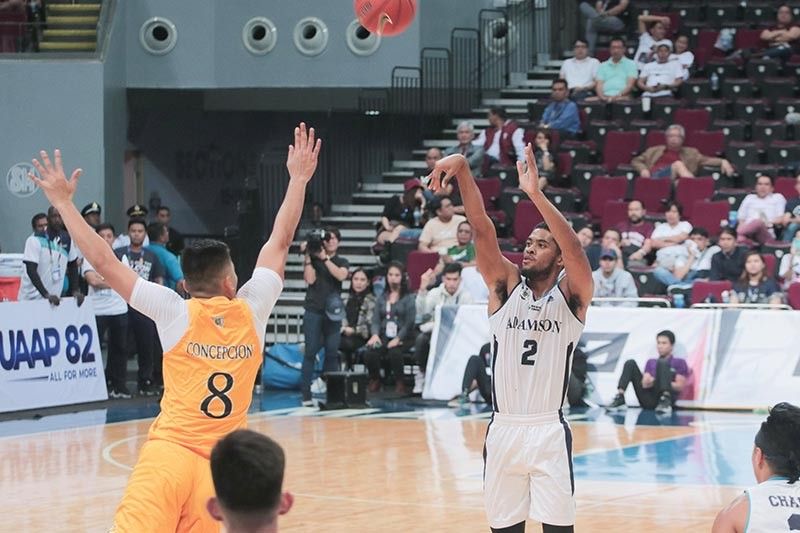 Jerrick Ahanmisi (R) of the Adamson Soaring Falcons shoots over UST's Sherwin Concepcion in their UAAP Season 82 first round clash on Wednesday, September 18 at the Mall of Asia Arena in Pasay.
Philstar.com/Erwin Cagadas
UAAP Wednesday: Another NU slip; rebounds for Adamson, FEU
MANILA, Philippines — It was a most eventful and wild UAAP Men's Basketball Wednesday and by day's end, the standings were topsy turvy.
The University of the Philippines slipped past luckless national University, 80-79, when John Lloyd Clemente's jumper was off the mark. It was UP's second consecutive game to escape the upset axe while it was the Bulldogs' fourth straight game to lose with the last shot.
Some may say that UP is a mess; I disagree. The Maroons haven't been at their best, yet they are 3-1. And to think that they really haven't found their groove. Wait till Ricci Rivero and Juan Gomez De Liaño figure out how it all works for all of them then everyone should watch out.
Their three constants thus far have been Bright Akhuetie, Javi Gomez De Liaño and Kobe Paras, and that is good for them. At least some people have picked it up.
As for NU, in my opinion and I have said this in all my preseason previews about them… I do not expect them to make serious moves until next year. Last year was having players in place. This year in learning to play together. I have always said that young teams will win here and there, but never quite enough because for one, it is a learning curve, and two, college ball is several notches higher than high school ball. Ditto with the pros that is why not every college star does well in the pros.
On a team with a lot of high school stars save perhaps for one or two, how does everyone play together? Some have figured it out. Not everyone though. But the Bulldogs are on the cusp of it. And I think it is up front where they need help because Issa Gaye cannot do it alone.
I have not seen any team lose four straight games at the buzzer. And you feel for the coaches and the players. The four straight losses put a damper on their situation. Yes, they still in contention but it is walking on eggshells at this point. Another loss might knock them out this early and to think they are only halfway done with the first round.
Both Adamson University and Far Eastern University rebounded mightily from their losses and dismal showings.
Adamson shocked UST, 78-71. When you think about how UST got lucky against NU that self-destructed in their previous game, the chinks in their armor have been exposed. Yes, the Growling Tigers are good, but they remain a work in progress. Everyone has heaped platitudes on them, but now, I am sure even UST head coach Aldin Ayo will want to exercise caution and restraint.
No one though will take them lightly. They remain a very good team that when they put it all together will be something.
You have to give a lot of credit to Jerrick Ahanmisi who made up for his poor outings with a solid game (24 points, 4 rebounds, and 3 assists with zero turnovers) from start to finish. No doubt, he heard it from critics, this writer included, but he really does need to step it up because he is one of three veterans who have played four or more seasons on this team. They need to do a lot of heavy lifting.
Adamson tied UST at 3-2 but is at third place because they won over the Tigers.
Feu showed what they could be this season when they too rebounded from the loss to Ateneo with a stellar showing versus sliding De La Salle, 66-55. Their victory that put them to 2-1 while DLSU fell to 1-3.
The two main reasons for the win was how Patrick Tchuente finally showed how he can be of massive help when he scored 19 points, grabbed 11 boards, and blocked 2 shots. He showed mobility and aggressiveness inside that helped them win the game. And graduating senior Wendell Comboy hit some big shots from outside to help ice the game. Rey Bienes also played well providing some options for FEU. And it was good to see Ken Tuffin play with some confidence.
And they will need all that and more because next up is UST (Sunday at the Ynares Center in Antipolo).
As for La Salle, it is all about finding that balance for their team. They have the players to compete, but it is all about chemistry in a nutshell.