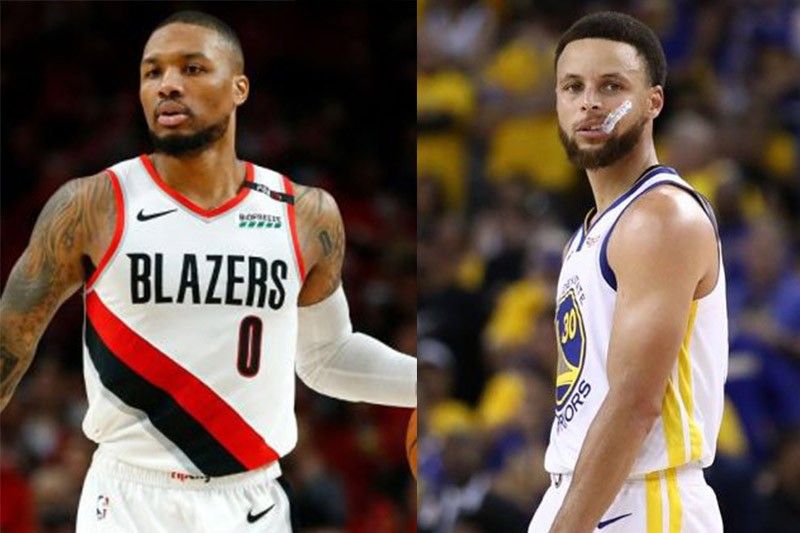 Damian Lillard (L) and Steph Curry (R) have both expressed commitment to play for Team USA in the Tokyo 2020 Olympics
AFP/Getty Images
Curry, Lillard commit to Team USA Tokyo 2020 bid
MANILA, Philippines — NBA superstars Stephen Curry and Damian Lillard have verbally committed to playing for Team USA in the Tokyo 2020 Olympics.
Following a sorry seventh-place finish in the recently concluded 2019 FIBA World Cup, the American squad is looking to bounce back.
Team USA fielded a roster of players put together at the last minute, but with commitments as early as Curry's and Lillard's, the American cagers are looking as dangerous as ever.
"That is the plan for sure," Curry said in an interiew with ESPN's Rachel Nichols.
"You know, obviously, knock on wood, you don't want any injuries or things like that to interfere," he said.
Steph Curry takes me on an exclusive tour of the new Biofreeze Center, where the Warriors will practice this year, and it's INSANE (facial recognition technology! sleep pods!). We also talk his MVP hopes, KD's departure, and the 2020 Olympics (he's in). pic.twitter.com/LN8aVC1vGh

— Rachel Nichols (@Rachel__Nichols) September 18, 2019
Curry, who has already won two World Cup championships with Team USA, hopes to punch his first Olympic appearance next year.
"The Olympics is the experience that I want. And next year will hopefully be it," he said.
Meanwhile, Portland's Lillard expressed his desire to play in Tokyo during a trip to Sydney.
"I plan on being a part of that. I plan on playing," Lillard told news.com.au.
The Americans struggled in creating a roster for the FIBA World Cup, with a handful of NBA stars pulling out of the tournament.
Team USA chief Jerry Colangelo had said he will remember players that didn't show up for the 2019 FIBA World Cup when the time for Olympic preparations comes up.