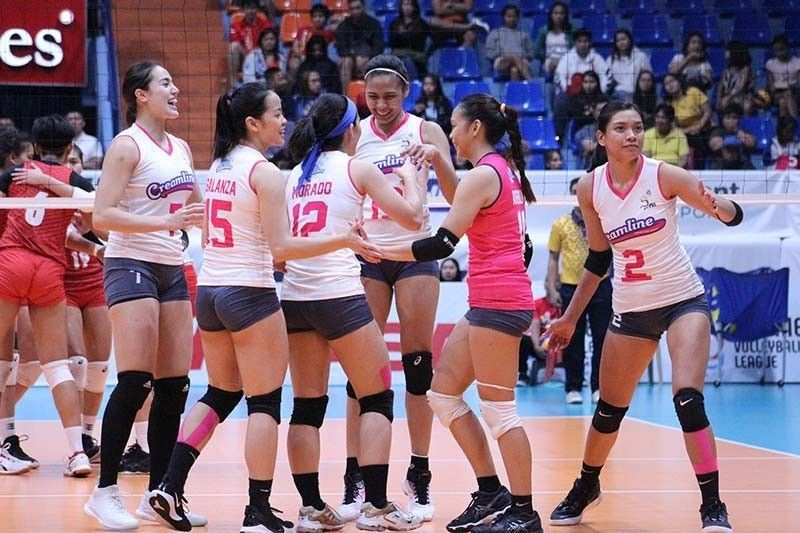 The Cool Smashers will be without injured Alyssa Valdez (rightmost) for the second straight game.
Philstar.com/Luisa Morales
Cool Smashers seek 'perfect' 10 sans Valdez, Morado
(Philstar.com) - September 17, 2019 - 4:43pm
Games Wednesday
2 p.m. – PacificTown Army vs Chef's Classics
4 p.m. – Creamline vs BaliPure
6 p.m. – Motolite vs Air Force
MANILA, Philippines – Creamline puts its long unbeaten run on the line sans two key players while PacificTown Army and Motolite likewise try to keep their own streak going against struggling rivals in the second round elims of the Premier Volleyball League Open Conference at the Filoil Flying V Center in San Juan Wednesday.
The Cool Smashers will be without injured Alyssa Valdez for the second straight game while Jia Morado has joined the national pool's campaign in the inaugural ASEAN Grand Prix in Thailand serving as part of the Filipinas' buildup for this year's Southeast Asian Games.
But the defending champion remain formidable with Michele Gumabao, Jema Galanza, Risa Sato, Celine Domingo and Pau Soriano and libero Kyla Atienza in harness and Kyle Negrito taking over the playmaking chores in their bid to stretch their romp to 10.
Creamline swept BaliPure in three last September 7 but the Water Defenders seek to pounce on Valdez and Morado's absence in pursuit of a key victory that would keep them in the race for at least the fourth and last semifinal berth in the season-ending conference organized by Sports Vision.
The Lady Troopers, meanwhile, bounced back strong from a shutout loss to the Cool Smashers last Sept. 4, beating the Chef's Classics Red Spikers, the Water Defenders and the Air Force Jet Spikers in three to wheel back into contention with a 5-3 card.
The veteran-laden Army side remained at fifth but its three-game run put the Lady Troopers closer to fourth running PetroGazz (5-2), BanKo-Perlas (6-3) and Motolite (6-2) heading to the final phase of the elims of the all-Filipino tournament backed by Mikasa, Asics and KFC.
That also makes PacificTown Army the heavy favorite in its 2 p.m. clash with Chef's Classics, which remains winless in eight games.
Motolite, on the other hand, continues to flourish sans injured top hitter Myla Pablo, scoring back-to-back wins, including a five-set escape over Choco Mucho last weekend. It plays Air Force (2-6), which it also beat in three last August 28, at 6 p.m.