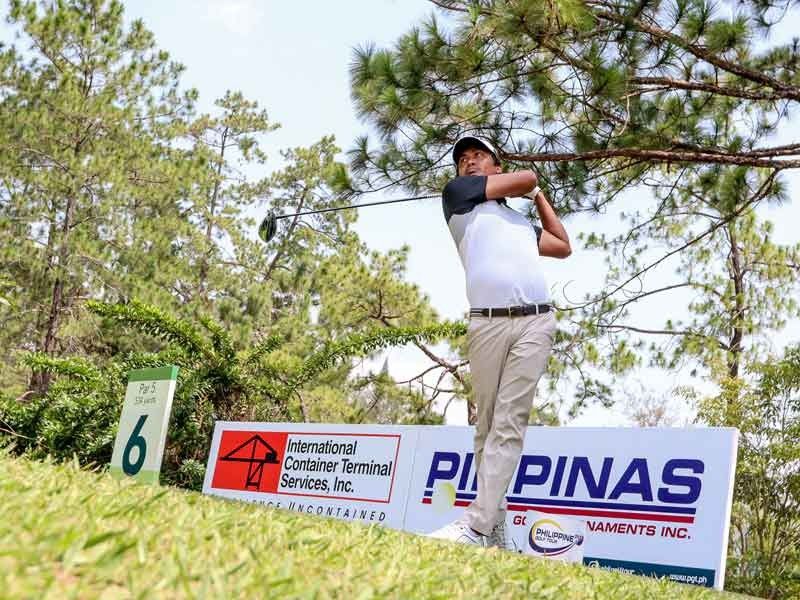 Juvic eyes new record as ICTSI Del Monte begins
BUKIDNON – Reymon Jaraula brims with confidence following a breakthrough run, so does Clyde Mondilla who is raring to flaunt his power game at home. With veteran Tony Lascuña, young Ira Alido and the rest also upbeat of their respective chances, an explosive start looms among the best and the brightest as the ICTSI Del Monte Championship blasts off Wednesday at Del Monte Golf Club here in Manolo Fortich.
But all may take a backseat as Juvic Pagunsan signed up for the P2.5 million event, back in the hunt for a record feat — a fifth championship following a record four-straight leg romp in Bacolod, Negros, Iloilo and Riviera stops of the 10th season of the country's premier circuit. He returned to his base in Japan PGA Tour last month and posted a runner-up finish and a ninth-place effort in Hokkaido and Fukuoka, respectively.
That should make him the player to beat in the 72-hole championship sponsored by ICTSI with the smooth-swinging Asia's former No. 1 looking to re-assert his mastery of practically the same field he had bested in the Visayan swing of the circuit and at Riviera in harsh conditions.
He drew an early tee time with Elmer Salvador and Rufino Bayron at 7:20 a.m. on the first hole while Jaraula to start six flights behind at 8:30 a.m. in the company of Richard Sinfuego and Rene Menor. Mondilla kicks off his bid at the back with Michael Bibat and Aussie Fidel Concepcion at 8:30 a.m.
"I'm so excited to get going and Juvic's presence adds up to the challenge," said Mondilla, out to redeem himself from a number of mediocre finishes after humbling a slew of foreign aces and the country's top guns to snare the Philippine Open crown at The Country Club last April.
He vowed to use an attacking kind of game on a course he's too familiar with, saying "I'll attack even the tight par-4s since I know where to place my shots here."
Lascuña also expressed guarded optimism against the stellar field while pointing to putting as key to his bid at ending a two-year title spell in the Pilipinas Golf Tournaments, Inc.-organized circuit he used to dominate.
Lascuña also won four legs to reign as PGT Order of Merit champion in 2016 but Pagunsan made it a record feat by winning four straight with another championship looming large given his form, confidence and skills that continued to be the envy of the other pros aiming to make it big someday.
They include Jaraula, who had looked forward to wearing the hunted tag after nipping Lascuña on the second playoff hole to nail his maiden victory at Pueblo de Oro last weekend until Pagunsan confirmed his entry into the seventh leg of the circuit backed by Custom Clubmakers, Meralco, Champion, Summit Mineral Water, K&G Golf Apparel, BDO, Sharp, KZG, PLDT and M.Y. Shokai Technology, Inc.
"I like my chances (coming off a win) but there's a lot of strong players, including Juvic," said Jaraula.
But a host of others are also raring to go and foil the fancied Negrense, including the homegrown bets ready to cash in on their familiarity with the tight, tree-lined mountaintop layout and fuel their respective title drives.
Focus will also be on the likes of Noel Langamin, Magno Arancon and Leonard Lofranco, former mainstays of the Del Monte squad in Interclub tournaments, along with other young guns seeking to score a tour breakthrough, led by Ira Alido, and tour veterans seeking redemption following a string of failed bids, including Jay Bayron, Michael Bibat, Jhonnel Ababa and Salvador.
Thai Kammalas Namuangruk, the lone foreign entry to finish in the Top 10 at Pueblo, is also back for a shot at the crown won by American Nicolas Paez last year with compatriots Tawan Phongpun and Pachara Sakulyong boosting the cast that also drew the likes of American Lexus Keoninh, Peter Stojanovski of Macedonia, South African Luke Trocada, American Sean Talmadge, Park Jun Sung of Korea and Dutch Guido Van der Valk, winner of this year's PGT kickoff leg in Cebu.