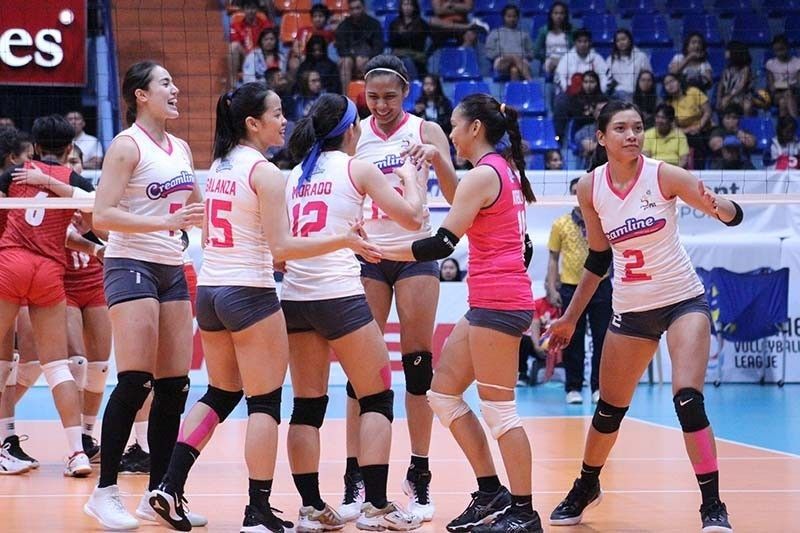 The Creamline Cool Smashers hope to continue their dominant showing in the PVL Open Conference when they begin the second round of the tournament against the Chef's Classics Red Spikers on Saturday.
Philstar.com/Luisa Morales
Cool Smashers target No. 9 vs Red Spikers
(Philstar.com) - September 13, 2019 - 12:00pm
Games Saturday
2 p.m. – Chef's Classic vs Creamline
4 p.m. – Air Force vs PacificTown Army
MANILA, Philippines — Top meets bottom as unbeaten Creamline seeks to kick off its second round elims campaign the way it started its title-retention drive in the Premier Volleyball League Open Conference – in emphatic fashion – as it tangles with winless Chef's Classics Saturday at the Filoil Flying V Center in San Juan.
The Cool Smashers had a virtual workout in disposing of the Red Spikers in the first round, 25-12, 25-5, 25-15, last August 18 on their way to an eight-game sweep. And from the looks of things, the defending champions could be in for another cruise on a team built around some of the league's top stars and given the Red Spikers' current form and record (0-7).
Alyssa Valdez and Jia Morado also try to help extend the team's win run before joining the national team pool in a training camp in Thailand with the likes of Michele Gumabao, Risa Sato, Jema Galanza and Celine Domingo eager to stamp their class against their young rivals, led by Nieza Viray and Justine Tiu, in their 2 p.m. clash.
That should put focus on the 4 p.m. face-off between old rivals PacificTown Army and Air Force with the former out to sustain its rebound for a third straight win and fifth overall against three loss and the latter raring to improve on its 2-5 card and resuscitate its own bid in the season-ending conference of the league organized by Sports Vision.
The Lady Troopers won their first two games but dropped the next three before recovering their bearing to beat Chef's Classics and BaliPure in straight sets to get back into the thick of things at 4-3.
The Jet Spikers are also coming off a pair of victories that snapped a five-game skid, ripping the Red Spikers and upending the young Choco Mucho side in five sets last Wednesday.
Meanwhile, Motolite and Choco Mucho hope to close out their first round campaign on a winning note as they collide Sunday at 2 p.m., also at the San Juan arena.
BanKo-Perlas and BaliPure, on the other hand, start their second round drive in the tournament backed by Mikasa, Asics and KFC, at 4 p.m. with the former (5-3) seeking to duplicate its scary five-set escape over the latter (2-6).