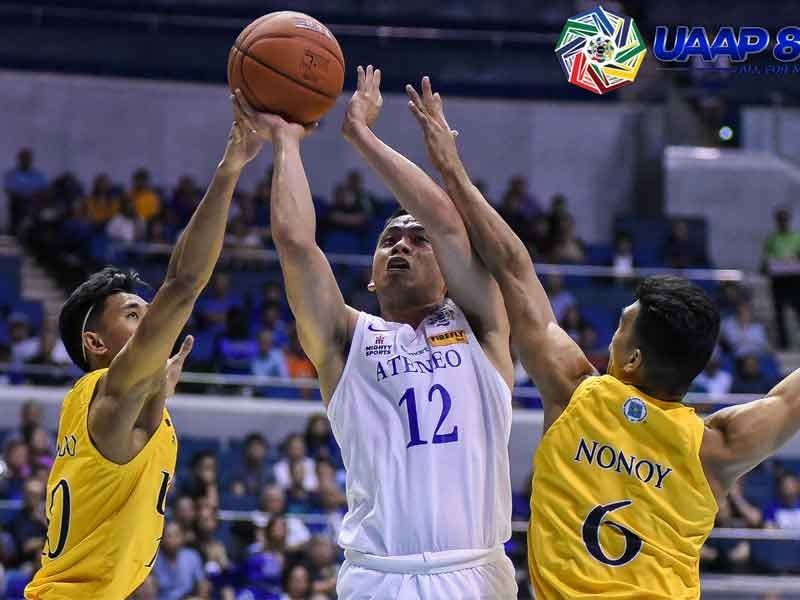 Ateneo's Matt Nieto working against UST defenders.
UAAP
UAAP hoops: 5 takeaways from Ateneo's win over UST
MANILA, Philippines – The Ateneo-UST match has to be one of the best of the games of this young UAAP season. The last two undefeated teams engaged in a protracted battle with each going on runs and their own spectacular plays.
The Blue Eagles squeaked past UST — after they nearly shot themselves in the foot with all their late misses from the free throw line — 71-70, to remain unscathed.
Amid another grind-it-out game, Ateneo got it done through its defense late in the match. The clutch gene that they developed over the past three years saw them hold off UST in the fourth period.
The Blue Eagles were 7/22 from the field while UST was 5/17. They outrebounded the Tigers, 17-10, and as a result, scored 10-0 in fast break points, and 4-2 in second chance points. They also had two blocks and one steal to the Growling Tigers' one steal in the final frame. However, they also missed three of four free throws late in the game, which could have put the game away a bit earlier.
Ateneo did a good job on limiting Rhenz Abando and Mark Nonoy, but they couldn't hold off Soulemane Chabi Yo until late in the game. But that is when Abando and Subido began to hit some shots. Nevertheless, only Chabi Yo finished with double-digit scoring for UST while Ateneo had three in Thirdy Ravena, who bounced back after a poor game versus La Salle, Angelo Kouame, who slightly played better offensively but was huge on the defensive end, and Gian Mamuyac.
Here are some takeaways from the game:
Despite the loss, the game only confirmed that UST isn't only a Final Four threat but a dark horse contender to the title. And how about that audacity to dunk thrice on the defending champions? Watch out, Ateneo, there is someone tugging at your cape.
The UST faithful can hope that this team is more than the second coming of those very good teams from 2012-14 except this time, they can bring back a title to España.
It is only the second year of Ayo in UST, but I will go on record to say that he is doing his best work. This time, he didn't inherit anyone's team. He put this one together in his image and likeness.
Gian Mamuyac is going to be a prime-time player. Aside from Kouame, he is the only Blue Eagle to play the entire fourth quarter netting two points, two assists and a rebound (he did miss to very late free throws that would have iced the game). Not everything that he did showed up on the stats board, underscoring his importance.
Aside from being the hunted, Ateneo remains the gold standard. They are 3-0, and people still haven't seen their best.