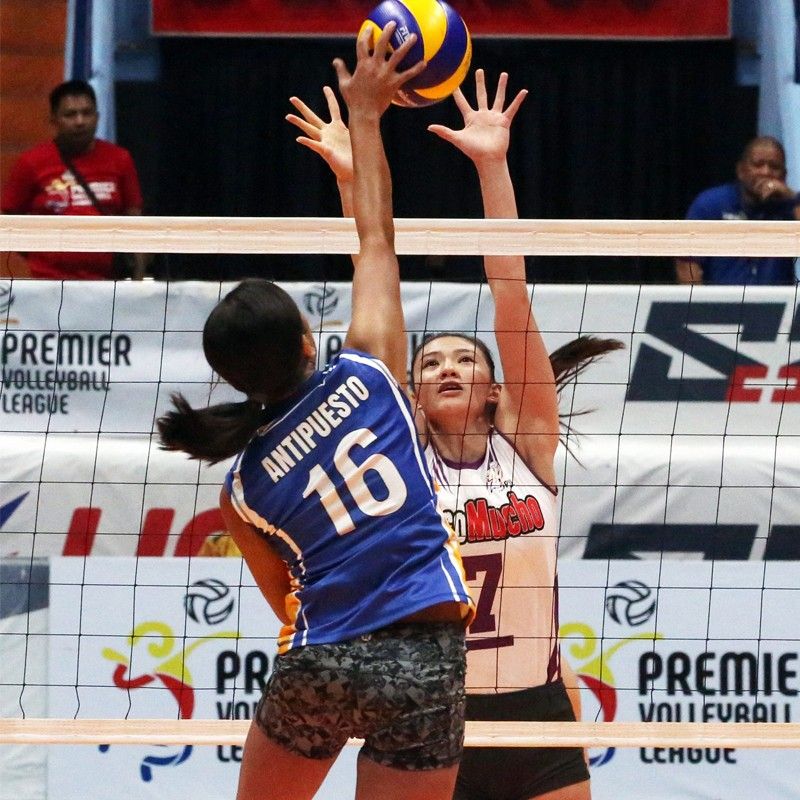 Angel Antipuesto Air Force goes for a kill against Maddie Madayag of Choco Mucho in yesterday's PVL action.
Ernie Pen?aredondo
Lady Jet Spikers soar vs Flying Titans
Joey Villar
(The Philippine Star) - September 12, 2019 - 12:00am
MANILA, Philippines — Air Force came through when it mattered most and outplayed Choco Mucho in the last two sets to eke out a come-from-behind 26-24, 14-25, 21-25, 25-22, 15-7 victory yesterday and breathe life to its sputtering campaign in the PVL Open Conference at the Flying V Centre in San Juan City.
It was the second straight victory for the Lady Jet Spikers after gunning down the Chefs Classic belles, 26-24, 25-15, 25-22, last Sunday to snap an alarming five-game slide.
And Air Force did it with a lot of grit as it came back from a set to two down and trailing 12-19 in the third set by combining a strong attacking game, superb court coverage and almost impenetrable net defense.
The dramatic fourth-set comeback was all the Lady Jet Spikers needed to come alive in the fifth and final set that they eventually dominated.
"When we won the fourth set, we knew that we must take advantage of the momentum in the fifth set and we did that," said Air Force coach Jasper Jimenez.
Kath Tolentino unleashed a 30-point performance, including a whopping 26 on spikes, but it all went down the drain after the Flying Titans blew what looked like a won match.
Choco Mucho fell to 2-5.