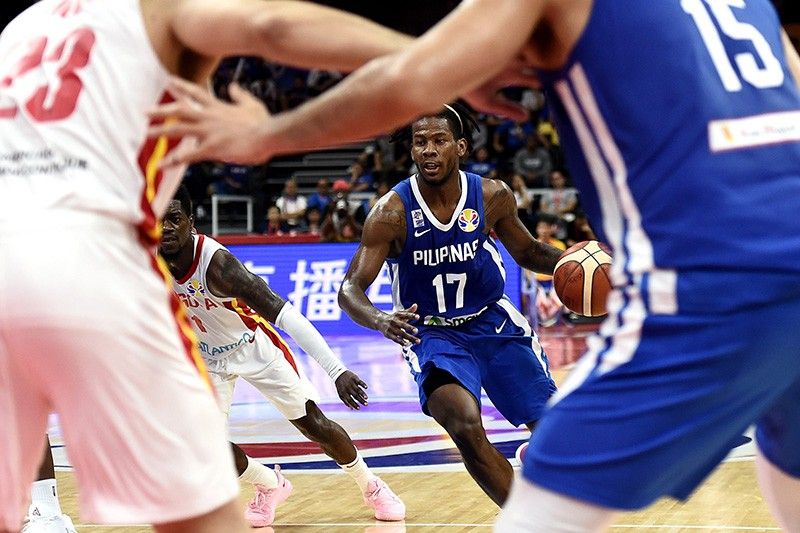 CJ Perez is about to penetrate the Angolan defense in their game Wednesday. The Nationals dropped an 81-84 overtime heartbreaker.
AFP
So much still at stake for Gilas
Olmin Leyba
(The Philippine Star) - September 6, 2019 - 12:00am
Philippines plays Tunisia, Iran in classifications
FOSHAN – It's not the end of the world for Gilas Pilipinas after dropping all three games in the first round of the ongoing FIBA World Cup.
The Nationals still have so much to fight for as they move over to the classification phase over in Beijing, relishing the opportunity to give this journey a brighter ending and with possibly an Olympic berth to boot.
Gilas plays Tunisia tonight at Wuksong Sport Arena in the Chinese capital to start its classification campaign in Group N, aiming to score a breakthrough and stay in the hunt in the de facto competition among Asian teams for the lone qualification to Tokyo 2020.
"That (Olympic slot) is very much a part of our motivation and we go to Beijing with that in mind now," said Gilas coach Yeng Guiao after wrapping up first round action in this prefecture city known as the "Cradle of Chinese Kungfu" with an 81-84 overtime loss to Angola.
"We're also out to improve on our rankings so whichever way we can, whichever possibility is accessible, then we'll go for it. Especially now that the guys are already fully comfortable playing at this level," he shared.
The FIBA has offered a ticket to the Olympiad to the best-placed Asian finisher in the WC here (with the exception of Olympic host Japan) and the race remains open as the Chinese, Filipinos as well as counterparts from Iran, Jordan and Korea were all relegated to the classication for 17th to 32nd places.
Guiao's charges, however, need to make their move fast and strong as they're planted to fourth in Group N with 3 points and -108 points difference behind Tunisia (four points, -74), Angola (four points, -74) and fellow winless Iran (three points, -22).
One thing going for the Gilas boys, according to Guiao, is that they're already getting the hang of playing in the WC after those expected losses to Euro powers Italy and Serbia and that overtime heartbreaker to Angola.
"We're getting better (each game) and we're able, I guess, to get used to this kind of competition. You know, this is different from PBA basketball and Asian basketball so I think it's (about) the immersion. We just need to immerse, the longer we play in this situation, the better we'd get and that's something we didn't have coming here (to Foshan)," said Guiao.
The Gilas mentor expressed belief that much like the last group match against Angola, their classification assignments Tunisia (tonight) and Iran (on Sunday) are "winnable."
"Going to Beijing, we're looking forward to playing teams that might be around our level of play," he said.
Iran is one familiar opponent, which should be useful in their WC encounter.
"We're used to playing Iran. We know how to play them in Asia so we're looking forward at better games in Beijing," he said.
Gilas took a three-hour flight from Guangzou to Beijing yesterday and held a viewing session late in the afternoon followed by one-and-a-half hour practice at night.