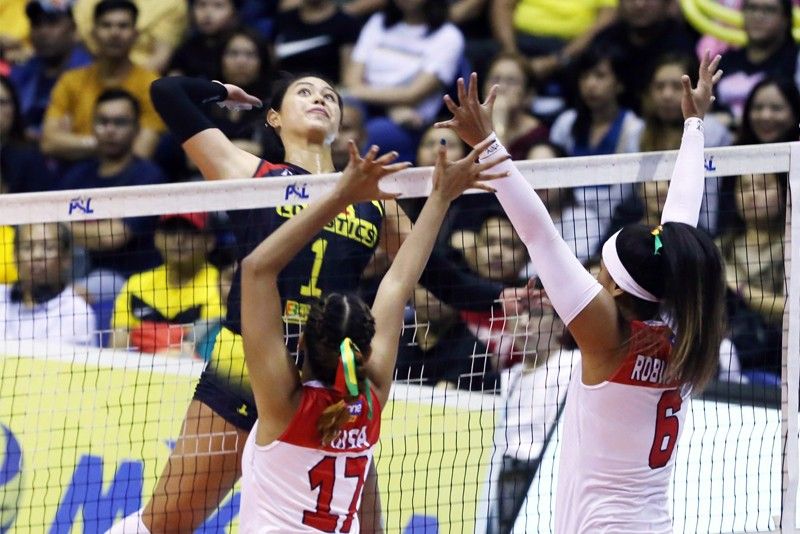 F2 Fil-Am ace Kalei Mau is set for a kill in this bit of action in Game 1 won by the Cargo Movers at 25-22, 26-24, 18-25, 17-25, 15-8.
Joey Mendoza
Fil-Am spiker aches for ultimate glory
MANILA, Philippines — After a roller coaster ride in her volleyball career here in the Philippines, Fil-Am player Kalei Mau is finally on cusp of realizing a dream championship.
Mau, a 6-foot-2 ace hitter from Hawaii, erupted for 27 points in the Cargo Movers' thrilling 25-22, 26-24, 18-25, 17-25, 15-8 Game 1 win over the gritty Cignal side to close in on a coveted Philippine Superliga All-Filipino Conference title.
And Mau definitely would want to go for the kill in Game 2 tomorrow set at the Mall of Asia Arena, not wanting to let this one slip away and give the HD Spikers any momentum.
"We're coming in swinging on Tuesday. It's a lot of emotions but I'm trying to keep my head still and keep looking forward. We have to keep that confidence and fire," said Mau who was acquired by F2 prior to this season following the disbandment of United VC.
A known fiery hitter from Arizona State upon her arrival here in the Philippines, Mau instantly made good impression although her scoring prowess did not translate into success.
With United VC, Mau was not able to come this close to hoisting a Superliga crown with her squad finishing only at seventh place in the 2018 All-Filipino, 10th in the Invitational and fifth in the Grand Prix. Then came United VC's disbandment paving the way for Mau's transfer to F2.
With Mau on board, the Cargo Movers raced to an unbeaten start in 11 games before stumbling late in the double round-prelims to settle for second spot behind dethroned champion Petron.
Still, Mau and F2 just would not be denied regardless of its playoff route, dispatching Sta. Lucia in the quarterfinals and Foton in the semifinals to barge back into the All-Filipino championship it last won in 2016.
And Mau's now a win away from being a Superliga champion.