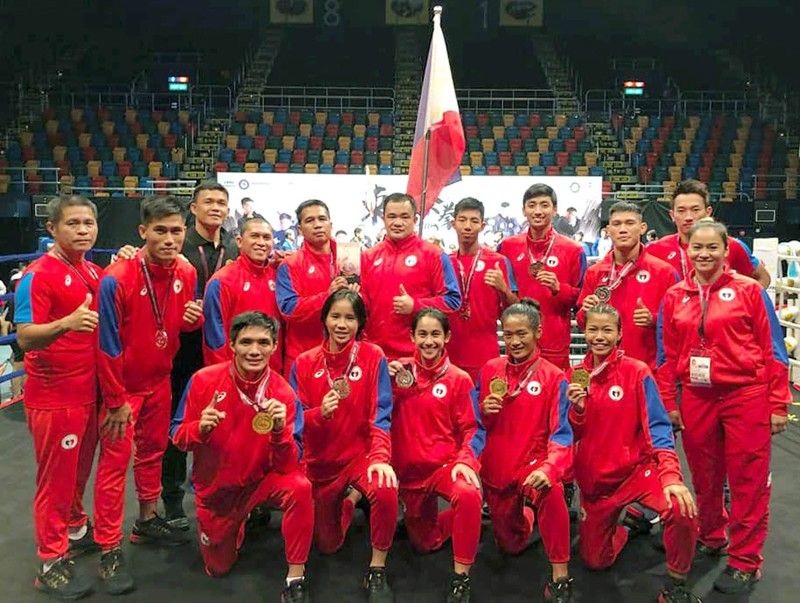 The triumphant Philippine Muay fighters display the medals won in their dominant showing in the East Asian Muaythai Championships in Hong Kong.
10 Philippine Muay bets pocket medals in East Asia meet
(The Philippine Star) - August 24, 2019 - 12:00am
MANILA, Philippines — The Philippine Muay fighters underscored their readiness for the coming 30th Southeast Asian Games in winning 10 medals, including three golds in the just concluded East Asian Muaythai Championships in Wan Chai, Hong Kong.
Colleen Saddi and Jenelyn Olsim came up strong against local opponents in the 48 kgs. and 54kgs., respectively, in the women's class, while Ariel Lee Lampacan defeated Yu Xi Chen of Chinese-Taipei in the men's 54kgs. as the Nationals matched their medal hauled in last year's edition.
Saddi won over Hoi Ni Heley Chan, while Olsim beat Ching Yee Tsang.
"We are very happy with the results but I know that Team Bagsik can do better. And that's what we promise the Filipino people in the upcoming SEA Games. We will dominate the opponents and show no mercy," said Pearl Managuelod, secretary-general of MuayThai Association of the Philippines (MAP).
"Last year, sweep din namin yung 10 events, lahat ng fighters natin nag-uwi ng medalya," said Managuelod.
Other finalists but coming up short were Islay Erika Bomogao against Yuen Wai Chan of HongKong in women's 45 kgs.; Philip Delarmino opposite Hin Ching Liu also of Hong Kong in the men's 57 kgs.; Hanzel Bilog (60kgs., Ka Chuna Wu of Hong Kong); Ryan Jakiri (63 kgs., Gantogtokh Baatarchuluan of Mongolia) and Jerry Olsim (71 kgs., S.G Rishittha Rusemh of Sri Lanka).
Newcomer Sid Anthony Capuchino and Liane Benito made it to the podium in the men's 51 kgs. and women's 51 kgs. class , respectively.
"There's no doubt we will do well in the SEA Games. Yung preparation at motivation ng ating mga fighters almost nasa peak na in time for the coming biennial meet in November," said Managuelod, a Sports Psychology graduate at the University of Ottawa in Canada.
National coach Onmula Yllib was awarded "Best Coach" by the tournament organizers.