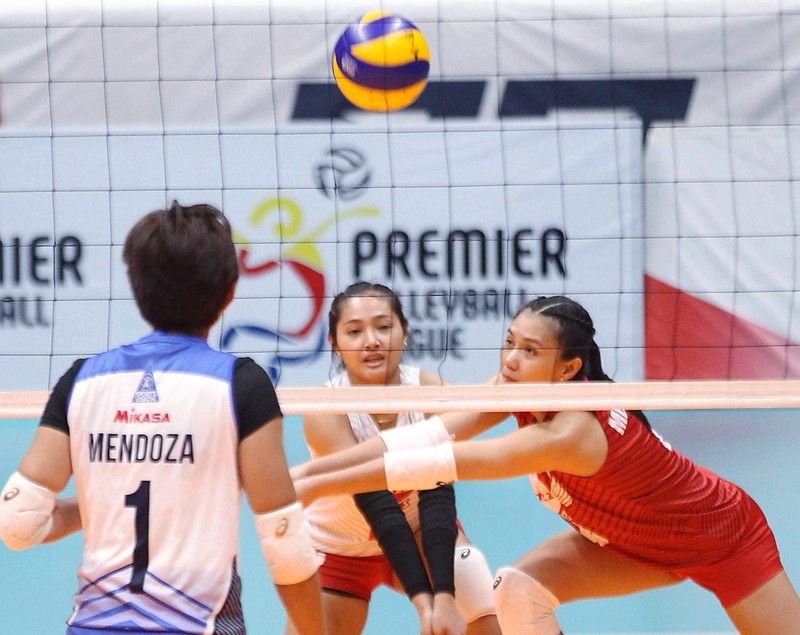 PetroGazz's Rica Jane Enclona, left, and Stephanie Mercado are both ready to dig while BaliPure's Mhae Mendoza looks on in this bit of action in a PVL Open Conference match yesterday. The Angels prevailed, 25-22, 25-18, 25-16.
Jun Mendoza
Tigresses, Lady Chiefs, Altas whip rivals
(The Philippine Star) - August 19, 2019 - 12:00am
MANILA, Philippines — EJ Laure provided the inspiration coming off a long hiatus as UST disposed of Lyceum of the Phl University, 25-18, 25-13, 25-21, to join Arellano and St. Benilde in Pool B lead in the Premier Volleyball League Season 3 Collegiate Conference at the Filoil Flying V Centre in San Juan yesterday.
Laure, the UAAP Season 77 top rookie, made two points and had five excellent digs and a pair of excellent receptions but more importantly motivated the rest, particularly rookie Imee Hernandez, who fired nine points, with freshmen Janna Torres and Kecelyn Galdones combining for 13 markers.
But Ysa Jimenez suffered an ankle injury even before the match had started as the wing spiker made a bad landing during warm-up. Based on the team's initial assessment, Jimenez incurred a negative fracture on her left ankle and will be out for at least six weeks.
Mary Joy Onofre scored nine points while Ciemelle Wanta and Donki Dahab turned in six markers apiece for the Lady Pirates, who joined the FEU Lady Tams, the TIP Lady Engineers in the 0-1 group.
The reigning NCAA champions Lady Chiefs also dominated Technological Institute of the Phl Lady Engineers, 25-12, 25-7, 25-13, with Regine Arocha and Necole Ebuen leading their attack with 10 points each.
Playmaker Princess Verutiao produced 11 excellent sets and put in six points, including four aces while Charmina Dino added five markers and Joy Batindaan, Mika Juanich and Carla Donato chipped in four points apiece to underscore the Lady Chiefs' balanced scoring.
Perpetual Help, on the other hand, needed an extra set to foil San Sebastian, 25-14, 25-22, 22-25, 25-17, to gain a share of the Pool A lead with Adamson and Ateneo.
Charina Scott led the Lady Altas 13 points.