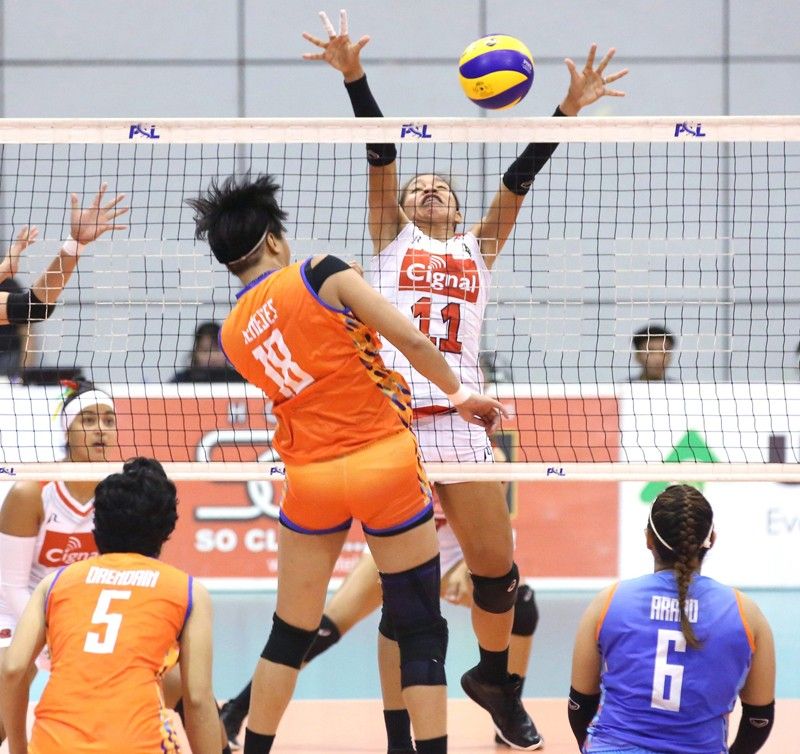 Rosalyn Doria of Cignal holds her ground against Marivic Velaine Meneses of Generika during yesterday's match.
Ernie Pen?aredondo
Up next is twice-to-beat Petron
MANILA, Philippines — Cignal HD scored one over Generika-Ayala when it mattered most, taking a huge 25-15, 17-25, 25-18, 25-22 knockout win to advance to the semifinals of the Philippine Superliga All-Filipino Conference at the Ynares Sports Arena in Pasig yesterday.
Motivated by two heart-breaking five-setter defeats in the double-round prelims, the vengeful HD Spikers just would not be denied in the sudden death quarterfinals as they took care of business to arrange a gigantic Final Four duel with the reigning champion Petron.
The fifth-seeded HD Spikers play the Blaze Spikers, who are armed with twice-to-beat edge as the No.1 team in the prelims, this Tuesday at the Muntinlupa Sports Center.
Four players hit double figures in a scattered Cignal attack led by skipper Rachel Ann Daquis with 13 points on 13 kills.
Veteran gunners Mylene Paat (12 markers) and Jovelyn Gonzaga (10) put up solid scoring support while versatile playmaker Alohi Robins-Hardy showed many other different facets of her game with 13 points on game-high seven blocks while providing 19 excellent sets.
"Those tough losses against Generika in the prelims were definitely huge motivating factors for us. I challenged them to treat those setbacks as inspiration and I'm just happy that they responded to the challenge," said head coach Edgar Barroga.
"It's time to break the spell. I just told the girls that we have come a long way in terms of preparation just to get here. It's on them to deliver and they just did," he added as Cignal gained a golden chance to challenge the two-time champ Petron's All-Filipino reign.
Learning its lesson from a a pair of slim defeats in the elims, Cignal roared on to a hot start with a 25-15 first set domination over the stunned Generika.
It became a back-and-forth battle as Cignal took the third, 25-18, which paved the way for their scorching 18-10 fourth set start.