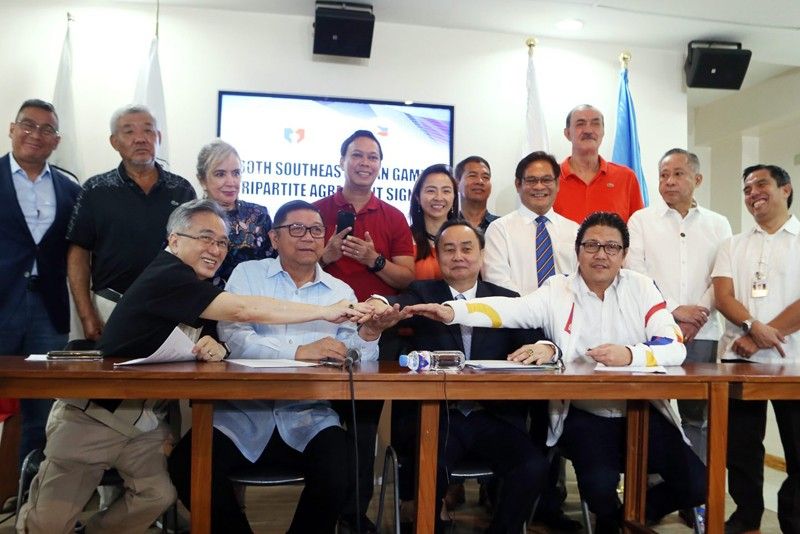 PSC chairman William Ramirez and POC president Rep. Abraham Tolentino (seated second and third from left) join POC chairman Steve Hontiveros and Phisgoc executive director Ramon Suzara and other ranking sports officials in yesterday's signing of the tripartite agreement.
Joey Mendoza
PSC willing to spend P1.2 billion
Abac Cordero
(The Philippine Star) - August 15, 2019 - 12:00am
Foreign exposure for SEAG bets
MANILA, Philippines — With only 107 days before the 30th Southeast Asian Games, the Philippine Sports Commission has reiterated its full support to the national athletes who will try to relive the "Miracle of 2005."
Chairman William Ramirez of the PSC, also chef-de-mission of Team Philippines for the coming SEA Games, said yesterday the government agency is willing to spend as much as P1.2 billion for the athletes.
"The PSC has already appropriated P600 million for the foreign training for this SEA Games," said Ramirez in the presence of fellow officials from the Philippine Olympic Committee and the SEA Games organizing committee.
"That's for the foreign training of our athletes. But because of the number of events (530 in a record 57 sports), that P600 million may be short so we are adding another P200 million or P400 million or P600 million more," he said.
"There was no time when the PSC appropriated P1.2 billion for the athletes (for the SEA Games)," added Ramirez during the signing of a tripartite agreement among PSC, POC and Phisgoc officials.
On top of this, the PSC has also allocated another P400 million to P600 million for sports equipment and the renovation of existing facilities like the Rizal Memorial Sports Complex in Manila and Philsports in Pasig City.
The SEA Games will take place from Nov. 30 to Dec. 11, meaning Filipino atheletes have more than two months to undergo foreign training.
Ramirez said with the all-out support from the government, which is based on the direct order from President Duterte, the Philippines can achieve the goal of regaining the overall title on top of a successful hosting.
The Philippines has previously hosted the SEA Games in 1981, 1991 and 2005, which was the only time the country emerged overall champion.
"We might be able to see the Miracle of 2005. The President himself said, 'We will succeed.' To me, it means kung hindi man (if we don't emerge overall) champion, maganda ang hosting (we will be successful in hosting)," Ramirez said.
"If we emerge champion, we will be very happy. It's not impossible. We are the hosts and we have the budget," he said.
The sky's the limit.