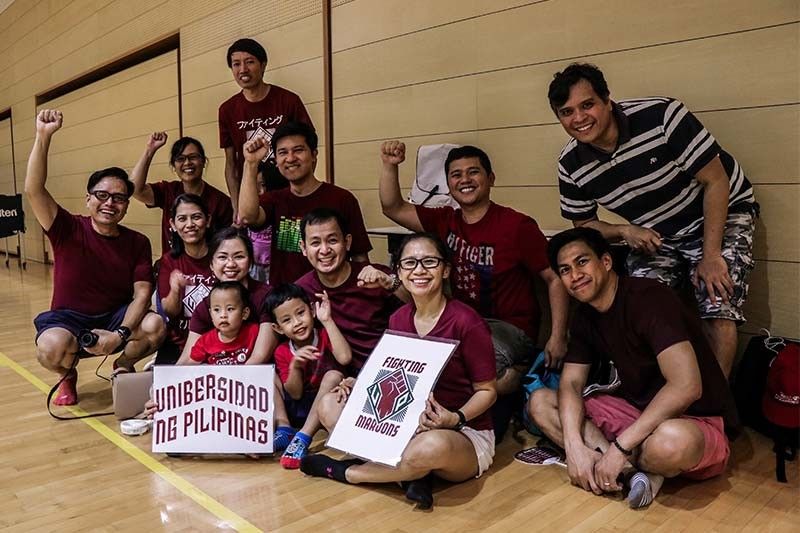 UP alumni in Japan flocked to the Fighting Maroons' scrimmage against Nippon Sports Science University on Monday
UP MBT/Keith Magcaling
UP alumni boost Fighting Maroons in Japan scrimmages
MANILA, Philippines — The UP men's basketball team is currently in Japan to prepare for the upcoming 82nd UAAP men's basketball tournament.
During a scrimmage against Nippon Sports Science University (NSSU) on Monday, a pleasant surprise welcomed the Fighting Maroons.
Groups of UP alumni flocked to the NSSU Sports Training Center in Tokyo and cheered on for the Diliman ballers during their game.
The players and head coach Bo Perasol were simply touched by the alumni's gestures.
"The presence of our alumni here in Tokyo is very heartwarming... to see that even from a far away place, people who are alumni of our school are there to support us," Perasol said in an interview.
"It has a very good effect on the pride of our student athletes... that is something that is very important to us," he said.
Ricci Rivero and Juan Gomez de Liano shared the same sentiments.
Rivero commented on the alumni's willingness to give time for the team despite their busy schedules.
"Wala namang holiday [dito] or what, [so] the fact na sumusoporta sila and nagbibigay sila ng time for us just to support us... sobrang na-appreciate namin yun," Rivero said.
Gomez de Liano, meanwhile, said that their presence made them feel more at home in a foreign country.
"It means a lot for the team, they made us feel at home... They basically motivate us to get better everyday here in Japan," he said.
The Fighting Maroons will be in Japan for training until August 19 before they head back to the Philippines in preparation for UAAP opening on September 1.
Last season, UP made a cinderella run to the Finals before falling to eventual champions Ateneo de Manila University in two games.