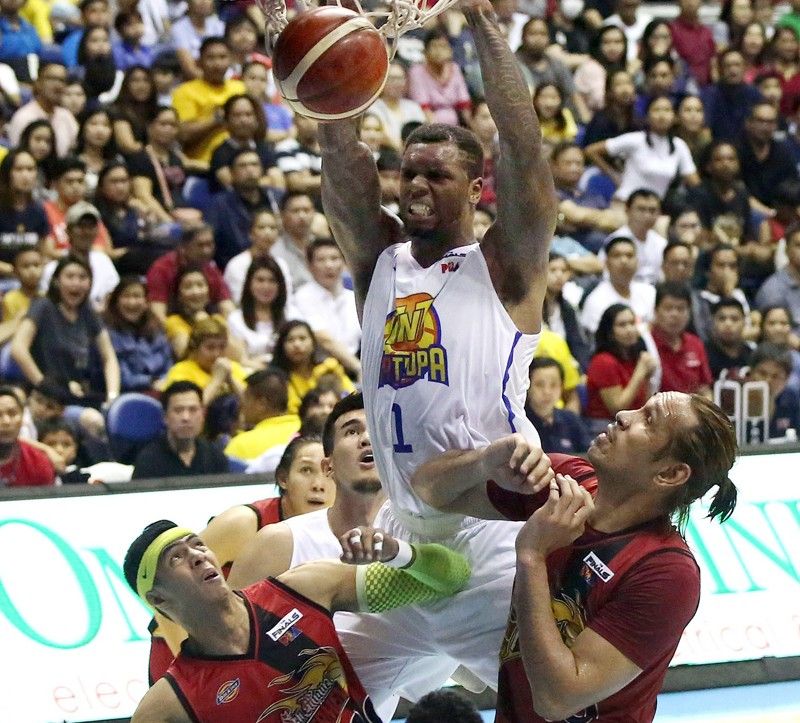 TNT import Terrence Jones executes a two-handed power jam versus hapless San Miguel defenders Arwind Santos, left, and June Mar Fajardo during Game Four. But the Beermen prevailed, 106-101.
Miguel Antonio de Guzman
SMB, TNT fight for pivotal 3-2 lead
Olmin Leyba
(The Philippine Star) - August 14, 2019 - 12:00am
MANILA, Philippines — They've engaged in a back-and-forth confrontation through four emotionally charged games, and protagonists TNT KaTropa and San Miguel Beer now brace for a spirited sprint race for the PBA Commissioner's Cup trophy.
The KaTropa claimed Games 1 and 3, 109-96, and 115-105, and the Beermen emerged victorious in Games 2 and 4, 127-125 (double overtime) and 106-101, as their battle for supermacy gets down to whoever gets two wins first.
TNT, which failed to bury SMB to a 1-3 hole last Sunday, takes another shot at win No. 3 tonight at 7 p.m. at the Smart Araneta Coliseum while the Beermen seek to score the first back-to-back triumphs in the series and move a step closer to the coveted crown.
"For us, we just got to get fresh, find a way to come back on Wednesday (Game 5) and make a series," said TNT consultant Mark Dickel. "It's a best-of-three now, so may the best team win."
"Right now it's 0-0, we're tied 2-2, so we have to go out there and play good basketball and get the win," said SMB import Chris McCullough, who had 27 points and 22 rebounds in their tying win.
The series features two equally explosive teams that could rack up big runs any time. But SMB has been the stronger starter, seizing double-digit leads early on, before TNT would chase them down.
"I feel like we're putting ourselves in a hole, climbing out of it, win or lose. We have to focus on starting the way we finish," said TNT's Terrence Jones, whose team was successful in stealing a victory in Game 3 despite a 17-point deficit but fell short in Games 2 and 4.
"We're finishing games with defense and aggressiveness and everybody's trying to win. But in the beginning we're easing and relaxing and letting guys get off and get hot or get comfortable and then in the second half we're taking it away. So if we start games just how we played in the second half, I think we'll be good," he added.
Inversely, San Miguel should toughen up on protecting leads.
"When we get the lead, we've got to make good plays, take care of basketball and hold on to the lead," said McCullough.
SMB has gone back to its bread and butter – June Mar Fajardo at the post – and struck gold in Game 4. Fajardo accounted for 22 in that match, making 16 in the second half.
"June Mar was able to play comfortable inside and that's what we need from him," said SMB mentor Leo Austria. "When we won the five-peat (Philippine Cup), he's the priority in the shaded area for the perimeter shooter to be open and create their shots."
For TNT, Dickel said it's crucial for the KaTropa to polish their guns after submitting their lowest FG marksmanship (41.8 percent) and three-point clip (33.3 percent) of the series last game.
"When we make a lot of shots we're pretty tough and last Sunday, we just did not make as many shots," he said.