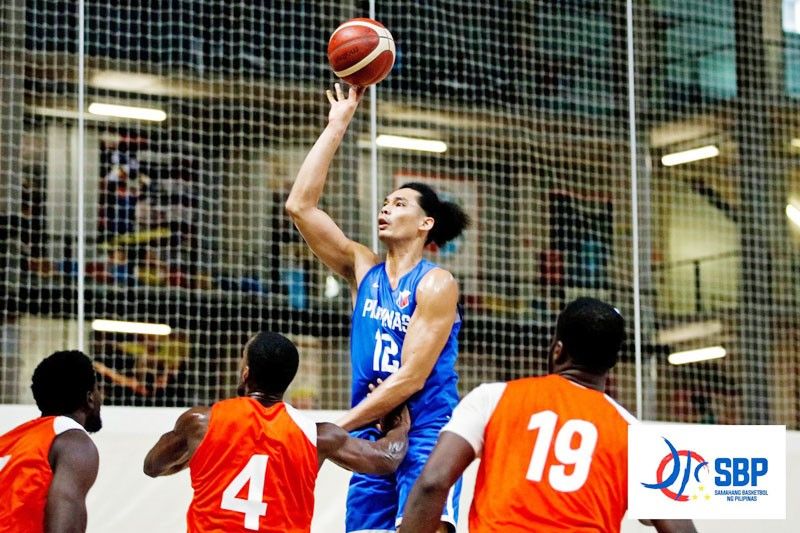 Japeth Aguilar takes a one- hander in this bit of action in Gilas' 11-point conquest of Ivory Coast.
TV5.ESPN.COM
Nationals roar on, thwart Ivory Coast
Olmin Leyba
(The Philippine Star) - August 9, 2019 - 12:00am
MANILA, Philippines — Slow-starting Gilas Pilipinas shifted to high gear in the second half to beat Ivory Coast, 94-83, and complete a sweep of its tuneup games against African sides in Guadalajara, Spain Wednesday night (early yesterday in Manila).
Andray Blatche came through with 18 points, 10 assists and seven rebounds while Paul Lee rifled in 16 spiked by 3-of-4 three-point shooting to power the Nationals to the come-from-behind victory from nine points down in the early goings.
"I'm really proud of the way they came back, the way they were able to play against the physicality (of the bigger Ivorians)," Gilas coach Yeng Guiao said in a report on ESPN5/Sports5. "It was physical. They were trying to overwhelm us with their size, weight and strength."
Guiao had just nine men at his disposal as Gabe Norwood is recovering from a mild groin injury he sustained in Gilas' 102-80 triumph over Congo the night before. Norwood, though, is expected to be ready for the next phase of Gilas' Spanish trip, a pocket tournament over in Malaga with Ivory, Congo and the host Spaniards.
The Ivorians pounced on their height and size advantage early on, allowing them to seize a 28-19 lead after 10 minutes of play.
Gilas gained headway in the second canto as Lee dropped eight and the Pinoy cagers went to within five, 45-50.
Picking up from there, Phl 5 unleashed a strong third-quarter performance with CJ Perez leading the way to reverse the tide, then limited their African opponents to just eight in the final period to cruise to the runaway romp.
Japeth Aguilar added 12 for Gilas while Perez finished with 11.