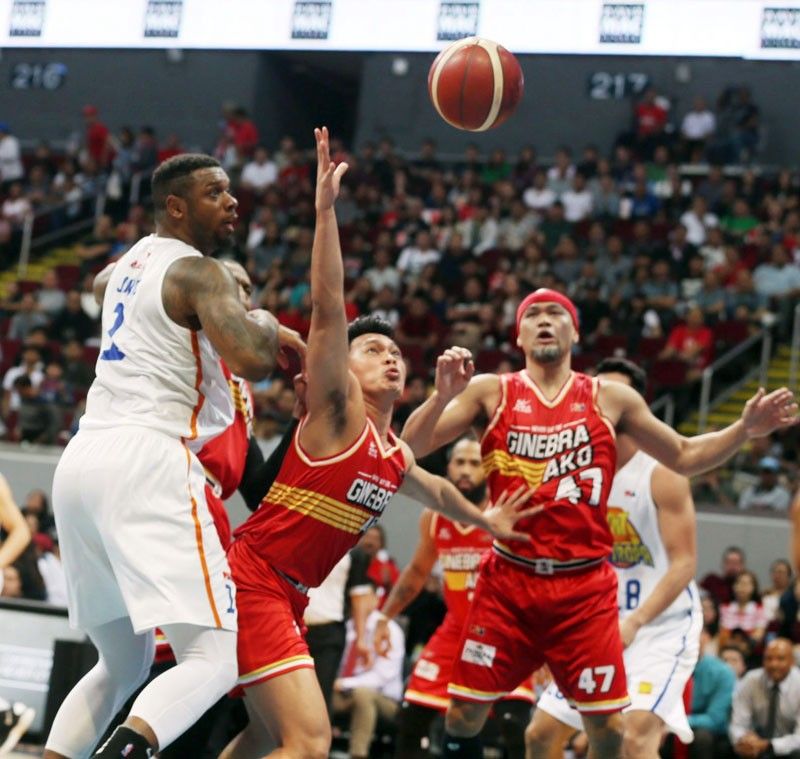 Ginebra's Scottie Thompson goes for ball possession as TNT KaTropa's Terrence Jones and Gin King Mark Caguioa look on
Joey Mendoza
Ginebra foils TNT's sweep bid
MANILA, Philippines — Reigning champion Barangay Ginebra staved off elimination, grinding out an 80-72 decision over TNT KaTropa in Game 3 of their PBA Commissioner's Cup best-of-five semifinal series last night at the MOA Arena in Pasay City.
Justin Brownlee struggled for a personal PBA-low of 14 points but figured other ways to provide a boost, coming through with 11 rebounds, eight assists, two steals and two blocks as the Kings willed themselves to foil the KaTropa's sweep bid.
Brownlee also took on Terrence Jones on defense in a long stretch, with LA Tenorio, Joe Devance and Scottie Thompson also playing key roles as the Kings beat the KaTropa in a fierce duel, thus, narrowing TNT's series lead to 2-1.
"We got one but one obviously is not good enough. We're still alive. We're still kicking so we'll move forward. Bad news is it's tough just to get one. We'll try to get two," said Ginebra coach Tim Cone, already looking forward to Game 4 tomorrow over at the Smart Araneta Coliseum.
Brownlee, currently the pacesetter in the Best Import derby, struggled through the first three quarters with just six markers before adding eight in the payoff period – still his lowest in the PBA.
"He's really trying hard and trying to force everything in the first two games. Now, he followed the game plan and sacrificed himself for this win. But if he wanted to take over and he needed to, he would take over," said Cone of Brownlee.
Cone won his duel of wits with the TNT coaching group, pulling through with schemes including a four-guard combo in Tenorio, Thompson, Mark Caguioa and Stanley Pringle that worked wonders for the Gin Kings, enabling them to seize an early double-digit spread at 21-10.
But the KaTropa adjusted well, and the two teams engaged in a toe-to-toe battle in the second half.
Behind Jayson Castro and Jones, TNT launched an 18-7 run to take its first taste of the lead at 50-49 midway through the third period.
It turned to a seesaw battle but the Kings held their ground with Brownlee and Tenorio delivering the killer blows at endgame.
Jones posted big all-around numbers with 24 points, 18 rebounds, four assists, three steals and three blocks but accounted for eight of 16 TNT turnovers. Troy Rosario contributed 12 points while Roger Pogoy and Castro put up 10 apiece in a losing cause.