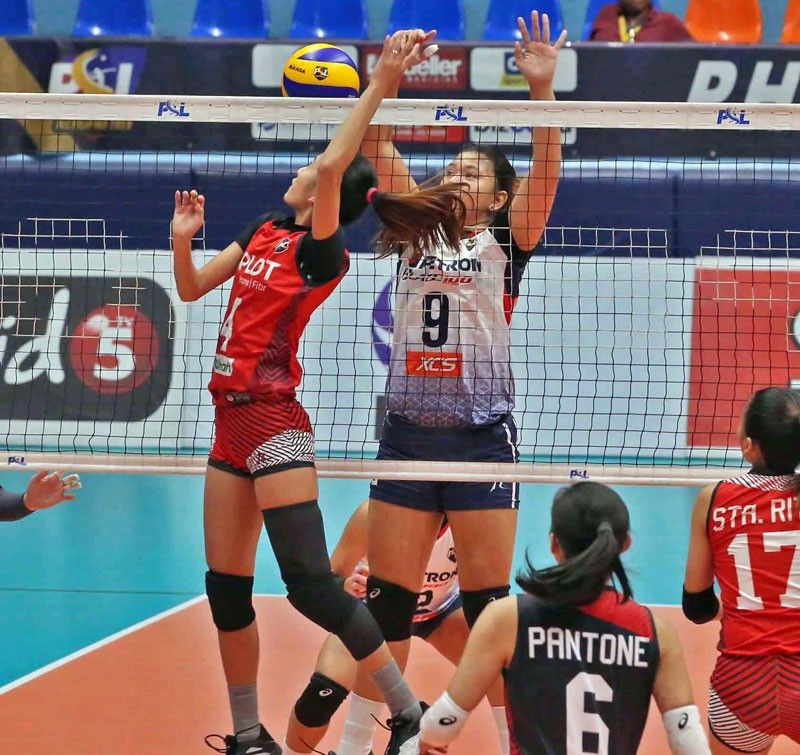 PLDT's Jasmin Nabor goes for a drop against Joy Palma of Petron.
Ernie Peñaredondo
Petron rolls on; Sta. Lucia checks skid
MANILA, Philippines — Reigning champion Petron extended its win streak to seven games while Sta. Lucia Realty arrested its 10-game slump in the Philippine Superliga All-Filipino Conference yesterday at the Filoil Flying V Centre.
The Blaze Spikers made short work of the PLDT side, 25-19, 25-15, 25-9, while the Lady Realtors drubbed the Marinerang Pilipina squad, 25-17, 25-19, 31-29.
Sisi Rondina continued her fine play for the Blaze Spikers, posting 12 points and 20 digs while Aiza Maizo-Pontilla added 10.
Mika Reyes and Remy Palma piled up nine apiece, skipper Ces Molina with eight while Rhea Dimaculangan had 18 excellent sets for the two-time champion Petron which improved to 9-1.
Earlier, Amanda Villanueva and skipper Pam Lastimosa led the way for the Realtors with 13 and 11 points, respectively.
Villanueva got his points on nine kills and four blocks, and also added 21 digs and 12 excellent receptions while Andrea Marzan, Glaudine Troncoso and Rachel Austero chipped in eight markers each.
Playmaker Rebecca Rivera facilitated Sta. Lucia's offense with 22 excellent offense.
"I want to acknowledge my players who went through a lot of losses, but didn't give up," said head coach Babes Castillo.
The Lady Realtors' lone win prior to this also came at the expense of the Lady Skippers, 25-23, 25-22, 25-23, back in their first round meeting last June 15.
Aching to end their skid, the Lady Realtors took the first two frames, 25-17, 25-19 and looked headed for an easy sweep.