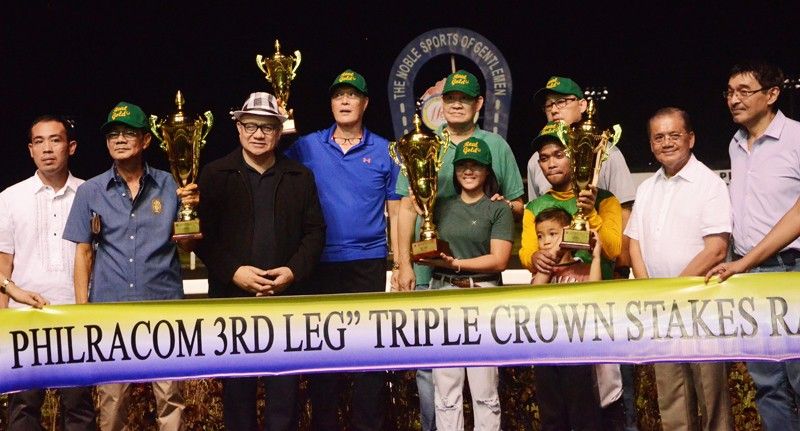 Owners of Triple Crown third leg champion Real Gold, namely Jing Javier, Butch Mamon, Alex Mamon and Chloe Mamon, trainer Reymundo Henson and jockey JPA Guce display their trophies. They are joined by Philracom Commissioners Reli de Leon and Bienvenido Niles Jr. and Metro Turf racing manager Rudy Prado and his deputy Arthur Escala.
Real Gold wins Triple Crown third leg in runaway fashion
(The Philippine Star) - July 24, 2019 - 12:00am
MANILA, Philippines — Real Gold got back at its second-leg conqueror Boss Emong in winning the third leg of the 2019 Philippine Racing Commission's Triple Crown series in a thrilling night race before an enthusiastic Sunday crowd at the MetroTurf Racing Complex in Malvar, Batangas.
The C and H Enterprise-owned Real Gold won the Triple Crown's first leg with a scintillating eight-length win at the San Lazaro Leisure Park in Carmona, Cavite in May, before a heartbreaker in the second stage last month, yielding the race by half a length to dark horse Boss Emong at the Saddle and Clubs Leisure Park in Naic, Cavite.
This time around, Real Gold was not to be denied.
With the expert riding of jockey John Paul Guce, Real Gold seized the lead in the final 400 and stayed up front until the finish for a many-length triumph over rival Boss Emong in the 2,000-meter race.
The win was worth another P1.8 million for owner C and H Enterprise of Butch and Alex Mamon, Jing Javier, Joseph Dyhengco and Robert Ramirez. Together with its first-leg win and second-place finish in the second stage, Real Gold netted a total of P4,275,000 in the series, nearly half of the P9 million allotted by the Philracom in the 2019 Triple Crown Series.
Boss Emong, ridden by Dan Camanero, settled for the runner-up purse of P675,000 for owner Edward Vincent Diokno.
In the Philracom 209 Hopeful Stakes Race, The Accountant (owner Luis Aguila, jockey Pat R Dilema) edged My Shelltex and Two Timer for the top purse of P600,000.