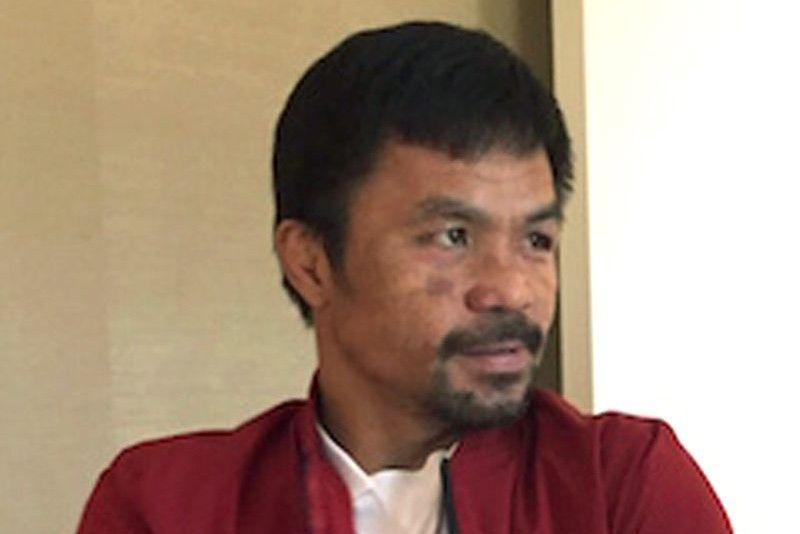 Manny Pacquiao
Contributed Photo
Manny Pacquiao okay despite blurry vision
Abac Cordero
(The Philippine Star) - July 23, 2019 - 12:00am
LOS ANGELES – American trainer Freddie Roach said Manny Pacquiao experienced blurry vision during the post-fight press conference at the MGM Grand Garden Arena last Saturday.
Pacquiao faced members of the press after an action-packed 12-round title bout with Keith Thurman. He wore a pair of sunglasses, fielded several questions but did not say anything about the situation.
The new WBA "super" welterweight champion had to excuse himself twice before leaving the press conference. He went up to Thurman and they shook hands before the Filipino icon left, ahead of his opponent.
Roach said it could be the Vaseline that was used on the boxer's face during the fight, around the eyes in particular, that could have caused the problem.
"Last night was just weird a little bit. He was having problems seeing at the press conference and I think that he said he has or he might be allergic to Vaseline or something," Roach told Filipino reporters.
"He had blurred vision and so forth at the press conference," said Roach the morning after the fight where Pacquiao took 192 power punches from Thurman compared to the 113 the eight-division champion landed.
According to CompuBox, it was the greatest number of power punches that Pacquiao took in a single fight in 43 of his fights covered and tracked by CompuBox.
"So that's the first thing we're going to find out what's causing that problem and go from there," said Roach.
"Manny, he fought a great fight last night. He took a little too many hits, and maybe a little bit too much punishment.," added the American trainer.
Pacquiao also experienced blurry vision after his one-sided win over Adrien Broner last January, caused by a loose tape on Broner's glove that had scratched Pacquiao's cornea on his left eye.
Doctors checked on Pacquiao's injured eye after the Broner fight, rinsed it with saline and applied some antibiotic ointment then covered it with a patch. A torn retina, which could have been career-threatening at that time, was ruled out, and Pacquiao was fine after a couple of days.