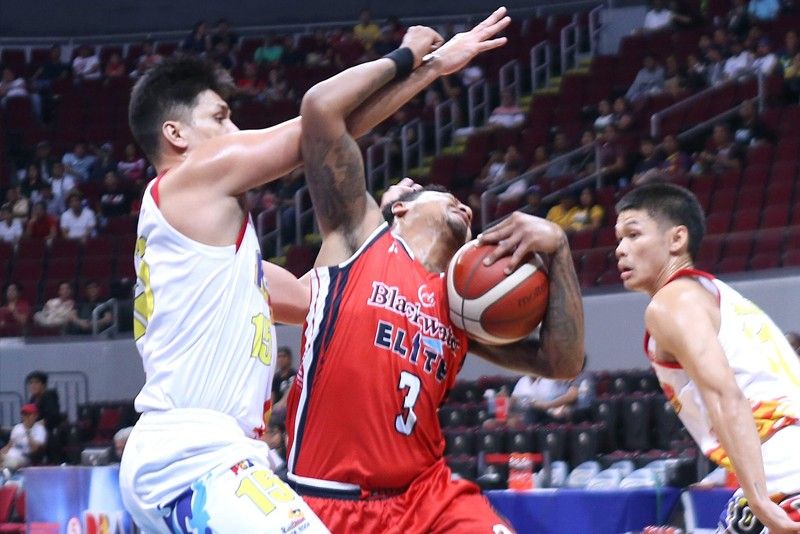 Blackwater rookie Bobby Ray Parks draws a hard foul from ROS' Jewel Ponferada.
Joey Mendoza
E-Painters, Gin Kings close in on Final Four
Olmin Leyba
(The Philippine Star) - July 21, 2019 - 12:00am
MANILA, Philippines — Rey Nambatac drilled in a booming trey with 2.3 seconds left as Rain or Shine snatched victory from the jaws of defeat via an 83-80 thriller over higher-ranked Blackwater in their PBA Commissioner's Cup quarterfinal match-up and moved close to a semifinal berth last night at the MOA Arena.
Nambatac's missile from beyond the arc capped a searing 11-0 salvo the No. 6 E-Painters exploded in the last 1:30 to complete the pulsating come-from-behind triumph and open the opportunity to wrap up the best-of-three affair against the No. 3 Elite on Tuesday.
"I think it was just a lucky win," said ROS coach Caloy Garcia, whose wards wiped out BW's 80-72 lead with a triple by Carl Montgomery, a steal and layup by Nambatac, the equalizing trey by Gabe Norwood then the marginal long-range bomb by Nambatac before Ray Parks missed a potential overtime-forcing trey at the buzzer.
"We were down (by eight) and I thought it was a lost game. But after we hit the three-pointer and got the steal, we got the opportunity to at least stay in the game and then it was really a big shot from Rey," said Garcia.
ROS drew double-digit production from Ed Daquioag (19), Montgomery (17), Nambatac (13), Beau Belga (11) and Norwood (10).
Holder Barangay Ginebra emerged victorious in a grind-it-out "Manila Clasico" quarters opener versus Magnolia, 85-79, to take the first step towards progressing to the Last-4.
Justin Brownlee, Stanley Pringle and Greg Slaughter joined forces for an 8-2 windup that pushed the Gin Kings to what coach Tim Cone felt was an ugly win.
"Magnolia did a really good job of muddying it up with their defense, they really kept the pace slow and limited the touches of Justin and Stanley," said Cone.
"As much as we won, it felt like a loss because we weren't able to play the game we wanted to play at all. Credit to their defense and coaching staff for putting up a fine defensive game plan. We got to handle it better on Tuesday (Game Two) and make sure we're better prepared," he added.
Brownlee finished with 20 on an 8-of-16 clip to lead the Gin Kings.
The scores:
First Game
Rain or Shine 83 – Daquioag 19, Montgomery 17, Nambatac 13, Belga 11, Norwood 10, Rosales 5, Mocon 5, Ponferada 2, Onwubere 1, Borboran 0, Torres 0.
Blackwater 80 – Parks 20, Belo 17, Smith 16, Maliksi 12, Sumang 5, Al-Hussaini 3, Cortez 3, Alolino 2, Sena 2, Digregorio 0.
Quarterscores: 22-21, 50-39, 59-61, 83-80
Second Game
Ginebra 85 – Brownlee 20, Pringle 18, Aguilar 14, Tenorio 11, Devance 6, Thompson 6, Slaughter 6, Caguioa 4, Mariano 0.
Magnolia 79 – Lee 24, Christmas 18, Barroca 11, Sangalang 10, Dela Rosa 5, Jalalon 5, Simon 4, Reavis 2, Gamalinda 0, Ramos 0, Melton 0, Pingris 0, Brondial 0.
Quarterscores: 26-23, 48-44, 66-60, 85-79