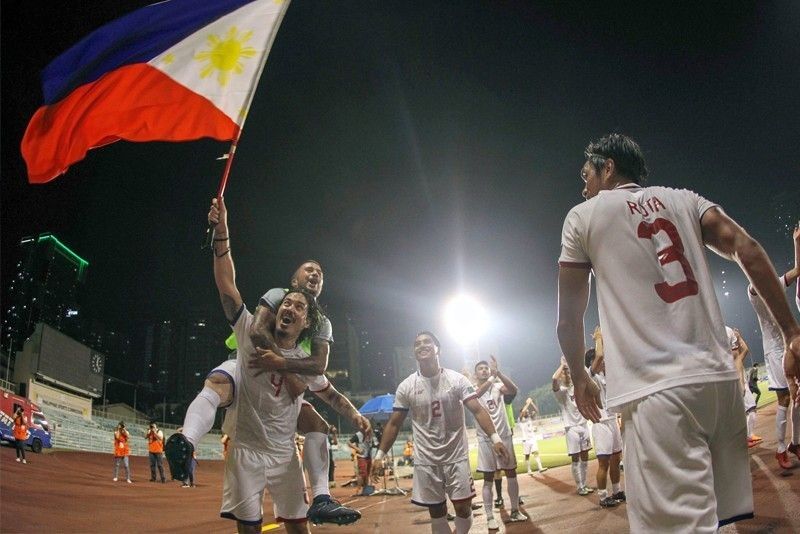 Carlos de Murga waves the Philippine flag with teammate Jeffrey Christiaens on his back as the Philippine Azkals celebrate their come-from-behind 2-1 victory over Tajikistan in their AFC Asian Cup Group Qualifiers at the Rizal Memorial Stadium late Tuesday. The win earned the Azkals a breakthrough stint in the Asian Cup in January.
KJ Rosales
Azkals grouped with China and Syria in 2022 World Cup, 2023 AFC Asian Cup Qualifiers
MANILA, Philippines — The Philippine Azkals will be facing powerhouses as well as familiar foes in Group A of the second round of the 2022 FIFA World Cup and 2023 AFC Asian Cup qualifiers.
After a 40-nation draw on Wednesday at the AFC House in Kuala Lumpur, the Philippines is set to battle it out with China, Syria, Maldives and Guam.
After a massive 40-nation draw today at the AFC House in Kuala Lumpur, the Philippines ???????? was drawn into Group A along with China PR ????????, Syria ????????, Maldives ????????, and Guam ????????! What do you think of the Azkals' chances? ???? Official match schedules come out soon! ????????
—#OneBlood ????????????? pic.twitter.com/fo4H1HNZ8H

— The Philippine Azkals (@TheAzkalsPH) July 17, 2019
The Philippine squad will need to win the group or land in the four best-placed group runners-up to move forward to the third round of the World Cup qualifiers and qualify to the 2023 AFC Asian Cup.
The Azkals see action on September 5 against Syria. It will be a home match for the Philippine booters.
Here's the GAME SCHEDULE for the Azkals:

September 5
PHL vs SYR (H)

September 10
Guam vs PHL (A)

October 15
PHL vs CHN (H)

November 14
MLDV vs PHL (A)

Nov 19
SYR vs PHL (A)

Mar26
PHL vs Guam (H)

Jun 4
CHN vs PHL (A)

Jun 9
PHL vs MLDV (H)

— dan stephen palami (@dscpalami) July 17, 2019