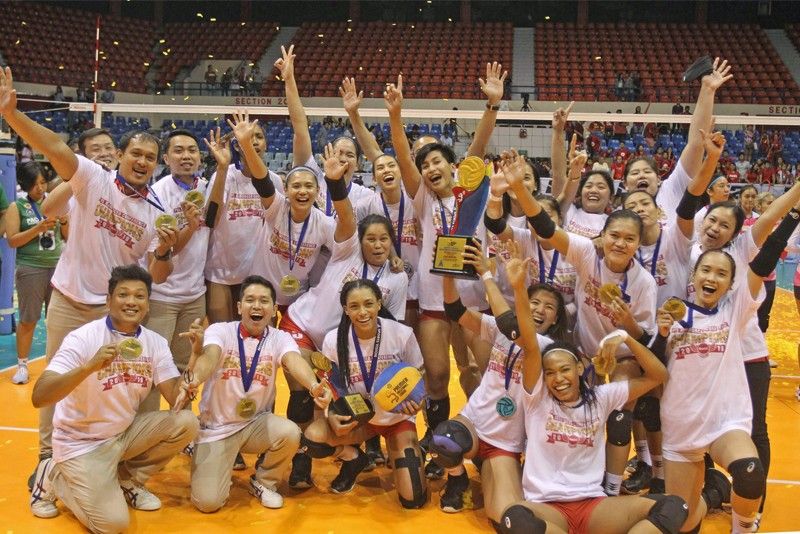 American Janisa Johnson (kneeling, third from left) holds her Finals MVP trophy as she and the rest of the PetroGazz Angels and supporters whoop it up after claiming the PVL Reinforced Conference crown on their very first try.
Jun Mendoza
Cohesion, commitment key to Angels rise
MANILA, Philippines — American Janisa Johnson has one "good" problem to mind after helping provide the answer to ending Creamline's dominance in the Premier Volleyball League – how to fit her Finals MVP trophy into her stuff when she leaves for France this Saturday for another tour of duty.
"I don't know how it's (trophy) going to fit into my bag," said Johnson, who with Cuban import Wilma Salas rallied the PetroGazz Angels from a 0-1 series deficit with a sweep of the next two games to foil the Cool Smashers' bid for a third straight PVL championship and snatch the Reinforced Conference crown in Antipolo Sunday.
"But, for sure, I'm going to put it in there," added the 27-year-old hitter in jest.
"But it's a great feeling. I mean, for me, awards, you know, aren't what I always try to achieve for but when I win one of course, I take it all to heart because for me, it's a great accomplishment. I couldn't have done it without my team," added Johnson, who fired 23 points in the sudden death, including the last two that ended the Cool Smashers' reign while heralding the Angels rise to the PVL throne.
More than their imports' power and experience, however, the Angels did rely on their cohesion all throughout their campaign, capped by their remarkable comeback in the finals, including a convincing 25-15, 28-30, 25-23, 25-19 victory before close to 6,000 fans at the Ynares Sports Center.
Coach Arnold Laniog credited their breakthrough to their teamwork and commitment.
"Answered prayers," said Laniog in the din of the celebration. "Our imports played a big role but again, we did it with the help of all the locals.
"The moment they committed themselves to our goal, I knew this championship is ours," he added.
For her part, Johnson, a product of California State U Long Beach who had won a title in France's Ligue A with Beziers Volley last year, said she didn't need to look far for motivation.
"Like I said before, I was doing it for the girls because I know what it feels like to win a championship, but the other girls' don't," said Johnson. "So I wanted them to experience what I've experienced before."
"This team is new in the league. We're all new so I just wanted to do everything I could just to, you know, get the team to where we had goals and you know, get us to the championship."
With Salas, who also won the Best Foreign Player honors and unloaded 30 hits in the title-clincher, Johnson dominated the scoring with their high-precision attacking games. Despite dropping the opener of their title series, the Angels regrouped and swept the next two, fulfilling their date with destiny in back-to-back game days.