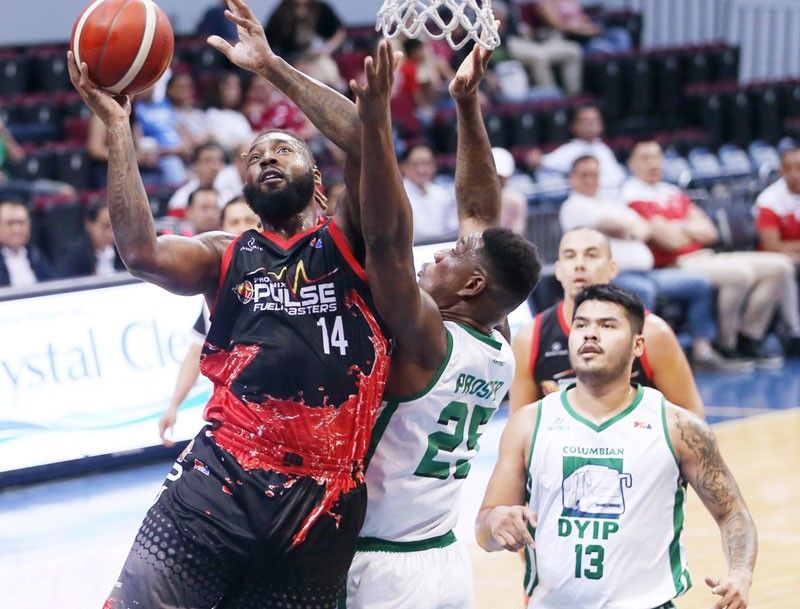 Richard Howell of Phoenix gets away with a basket again Lester Prosper of Columbian but fails to carry his team to victory last night.
Joey Mendoza
Olmin Leyba
(The Philippine Star) - July 7, 2019 - 12:00am
MANILA, Philippines — Columbian Dyip continued their giant-killing ways in the PBA Commissioner's Cup, taking down contender Phoenix Pulse, 100-98, to nail their third win in the PBA Commissioner's Cup last night at the MOA Arena.
Displaying the same grit that enabled them to stun powerhouse San Miguel (134-132 in overtime) two games back, the Dyip outsteadied the fifth place-seeking Fuel Masters in a tightly-fought endgame with Glenn Khobuntin and Reden Celda providing the coup de grace in the last 19 seconds.
With the score knotted at 98 all and Phoenix going for the go-ahead after a steal, Khobuntin gave the streaking RJ Jazul a chase and foiled his attempt, giving possession back to the Dyip who took the eventual game-winner in the Petron Blaze Saturday Special matchup via Celda's floater.
The Dyip then forced Phoenix import Richard Howell to miss from beyond the arc in the last nine seconds to improve to 3-7 and keep their slim chances for the quarterfinals alive. They need to beat GInebra in their next game and hope for a favorable result in their rivals' remaining matches to have a shot.
"We have minimal chances but I don't really expect (to make it). I just want us to win our last two games and finish strong this conference in preparation for the next," said Columbian coach Johnedel Cardel.
In the second game, Rain or Shine used the second-quarter exit of Denzel Bowles due to knee injury as rallying point to prevail over Alaska, 86-84,to gain a tie for sixth at 4-5.
"It's a huge win for us and also a big loss as we don't know the status of Denzel," said ROS mentor Caloy Garcia.
Bowles felt that something cracked on his knee after his collision with Alaska's Jeron Teng and left with a team-high 16. In his absence, JaVee Mocon (11), Mark Borboran (11, including 10 in the fourth), Rey Nambatac (10), Ed Daquioag (seven) and even seldom-used Sydney Onwubere (five) joined hands in helping ROS to the crucial W.
Chris Banchero (24) and Diamon Simpson (23) led the skidding Aces, who dropped to 4-6.