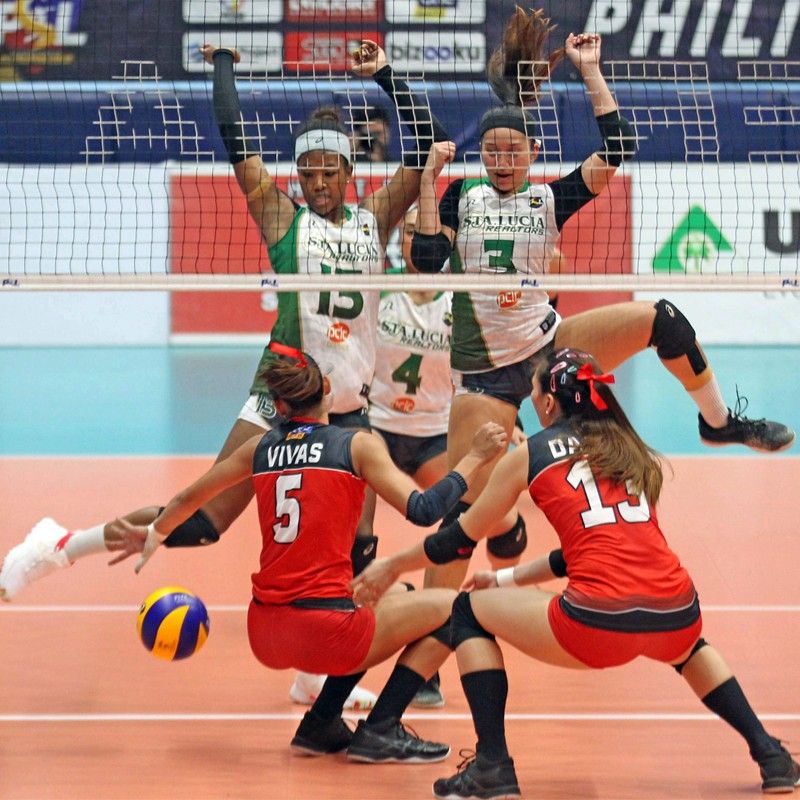 Sta. Lucia's Jana Philips (13) and Rachel Austero put up a defensive wall to foil the attack of Cignal's Cherry Mae Vivas (5) and Rachel Daquis in their game Tuesday. Cignal topped SLR, 25- 27, 25-22, 25-10, 25-21.
Jun Mendoza
Blaze Spikers rally to notch win No. 2 vs Tornadoes
MANILA, Philippines — Reigning titlist Petron showed its championship heart as the Blaze Spikers overcame the Foton Tornadoes, 22-25, 16-25, 25-16, 25-17, 15-12, in a five-set grind in the Philippine Superliga All-Filipino Conference Tuesday night at the Filoil Flying V Centre in San Juan.
The Blaze Spikers set out for the match as the heavy favorites being the back-to-back champs, but found themselves in a precarious position with the Tornadoes winning the first two sets.
Puzzled, frustrated and all, the Blaze Spikers went on the brink of defeat, but gathered themselves and avoided what could have been a humbling loss.
Team skipper Ces Molina sparked the Petron turnaround leading to their emphatic domination of the last three sets to salvage the thrilling five-set win.
Petron's comeback win provides the Petron Blazers a needed momentum as they clash with with bitter rival F2 Logistics (3-0) at 7 p.m. tonight in a battle of unbeaten squads.
Meanwhile, Cignal (1-0) looks for a second straight win against PLDT (2-1) in their 4:15 p.m. tussle.
Built on 15 attacks, four aces and a block, Molina finished with 20 points while getting much-needed help from Sisi Rondina and Remy Palma with 14 markers apiece.
Mika Reyes was also instrumental with 12 points while seasoned playmaker Rhea Dimaculangan did a good job keeping her teammates' poise with 25 excellent sets as the Blazer Spikers stayed immaculate with a 2-0 slate.
Sisters Jaja Santiago and Dindin Santiago-Manabat posted 21 and 16 markers, respectively, for Foton which reeled with a third straight setback for a 1-3 card.
"Honestly, we're sad with our performance in the first two sets (against Foton). We failed to show our real game," said Petron head coach Shaq delos Santos. "But we will be carrying that momentum when we face F2 Logistics."
However, the Cargo Movers pose an even tougher challenge for the reigning champion especially riding on an unbeaten three-game run so which is seen as a sign of its serious vengeance bid on their PSL Grand Prix tormentors.