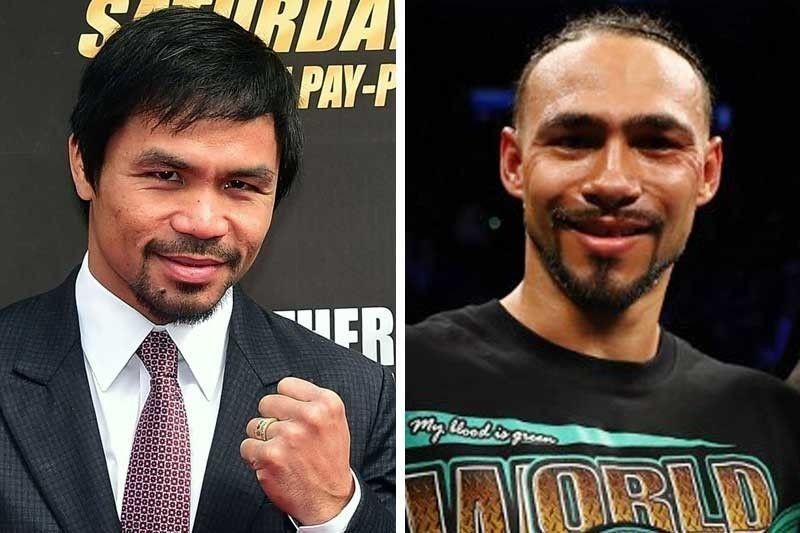 Manny Pacquiao and Keith Thurman
Pacquiao extremely motivated for Thurman
MANILA, Philippines — Australian strength and conditioning coach Justin Fortune said the other day Manny Pacquiao is "extremely motivated" to beat Keith Thurman in their WBA unification welterweight championship fight at the MGM Grand Garden Arena in Las Vegas on July 20 and from what the fighting senator has so far shown in the gym, his prediction is it'll be a convincing win over the undefeated American.
Fortune flew in from Los Angeles to work with Pacquiao in coordination with chief trainer Buboy Fernandez last May 26. He watched over Pacquiao's sparring with Australian Tim Tszyu at the Elorde Gym near MOA yesterday afternoon then took the evening flight back to L. A. Fortune left ahead of Pacquiao to arrange for his training at the Wild Card Gym starting Monday. Pacquiao will leave for L. A. tomorrow.
"Manny hasn't slowed down," said Fortune. "I haven't noticed anything different from his previous camps for (Lucas) Matthysse and (Adrien) Broner. He's out to prove something against Thurman. All that talk about his age is annoying him. I think he's more enthusiastic, quicker and stronger than before. Obviously, he's gotten smarter with more experience."
Fortune said Thurman made the mistake of pissing off Pacquiao. "The last guy you'll want to get on his bad side is Manny," he said. "When Thurman talked about crucifying Manny, that was totally objectionable. It was disrespectful of the Bible and Manny. Now, Manny's angry. He wants to teach Thurman a lesson. Thurman should've known better than to say things that will get Manny mad."
Fortune said the training plan is to keep Pacquiao at the 60 to 70 percent level of conditioning before leaving for the US. "Our goal is to maintain his conditioning at this point," he said. "Manny will do intensive training in L. A. We've had to pull back a little bit in Manila so Manny doesn't peak too early. For sure, he'll be 100 percent when the fight comes. We'll be up to seven rounds of sparring by Saturday then when Manny starts sparring in L. A. on Tuesday, he'll go up to eight then move to 10 to 12 and drop down to 10 to eight and six before tapering off. He'll be exactly where we want him to be when he enters the ring to fight Thurman."
Fortune said Pacquiao will have gone 24 rounds of sparring with Tszyu by Saturday since the Australian's arrival last week. "We're still not sure if Tim will join us in L. A.," he said. "That's something we're working out. We want Tim to be in camp but we also know he has a fight coming up in Australia. One of the sparmates lined up for Manny in L. A. is Abie Lopez who trains with Freddie (Roach). Sean (Gibbons) will line up some Thurman-like sparmates for Manny."
Lopez, 23, is a 5-9 righthander with a 69 1/2-inch reach. His record is 10-2-1, with three KOs. He turned pro in 2015, losing a majority four-round decision to Alfonso Olvera then went unbeaten in his next 12 outings. Last November, Lopez dropped a unanimous six-round verdict to Jesus Cruz Bibiano. With his physique and style, Lopez is a Thurman fight-alike whom Pacquiao could use as a tester for what he plans to do in the ring in Las Vegas.