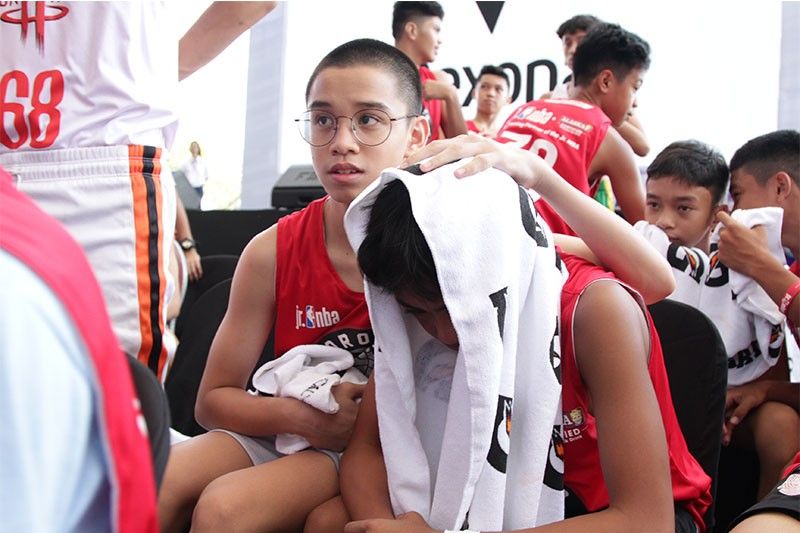 A Jr. NBA camper consoles his fellow baller after not making the cut in the Jr. NBA National Training Camp on Sunday, May 20, 2019
Contributed photo
Sexton, Penicheiro to Jr. NBA kids: Strive through failure
MANILA, Philippines — In the world of sports, athletes go through a lot of struggles.
Most players are no strangers to failure, like getting cut from a team or losing a big game, or suffering a season-ending injury.
For a lot of Jr. NBA campers, heartbreak came on a Sunday with only 10 ballers making it through to the next level of the program among the 80 participants in the National Training Camp.
But Jr. NBA mentor and WNBA great Ticha Penicheiro wants this setback to only push the kids harder.
"I talked to them this morning... [I told them] I know I would be devestated but let this be motivation for you to get into work on your game," Penicheiro said.
"I gave them the example that Michael Jordan, the best player that has ever played in my opinion in the world, was cut from high school and then you see how he turned out to be a player," She said.
Cleveland Cavaliers rookie Collin Sexton also shared the same sentiments, telling the kids that it isn't the end of the road.
"Just keep your head up, just keep working and keep on getting better. Don't let this stop you," Sexton said.
"This Jr. NBA, you have a lot more basketball to play, this is just one stop," he added.
Penicheiro and Sexton served as mentors during the Jr. NBA National Training Camp and helped chose the 2019 Jr. NBA All-Stars that will advance to the Jr. NBA Global Championship Asia Pacific Selection Camp in June.