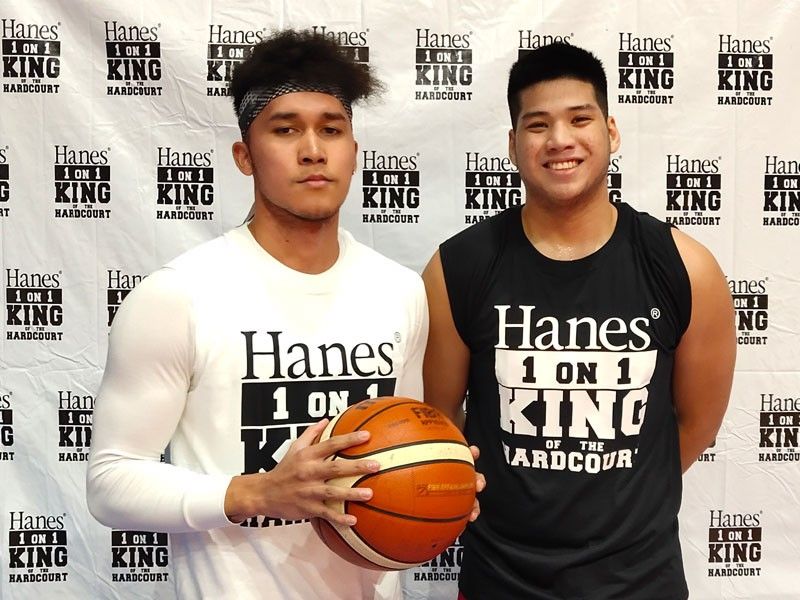 UP's Joe Gomez De Liaño (left) won his second game in as many outings in the Hanes One-On-One King of the Hardcourt by defeating San Beda's Sean Garcia (right), 12-6.
Joe Gomez De Liaño defeats SBC's Sean Garcia for 2nd 'King of the Hardcourt' win
MANILA, Philippines – The University of the Philippines' Joe Gomez De Liaño made it two in a row as he defeated San Beda University's Sean Garcia, 12-6, in the Hanes One-On-One King of the Hardcourt at the Filoil Flying V Centre on Monday.
Garcia, a 6'4" rookie who is coming up from the Red Cubs, gained the upper hand early in the match when he scored on an and-one to make it 3-1. Gomez De Liaño, who in his first assignment defeated Arellano University's Justin Araña, hit a long bomb of his own to retake the lead, 4-3.
The eldest of the Gomez De Liaño brothers then scored a basket, but Garcia notched the count with a triple, 6-6.
The 6'2" Gomez De Liaño retaliated with a conventional triple and a three-pointed to win the individual contest, 12-6, and to go 2-0.
"It was a tough contest because he (Garcia) was staying close to me, and I just made some big shots," said Gomez De Liaño.
In other King of the Hardcourt action, College of St. Benilde's Sidney Mosqueda evened his account to 1-1 after he won over San Sebastian College Recoletos' Rommel Calahat via disqualification.