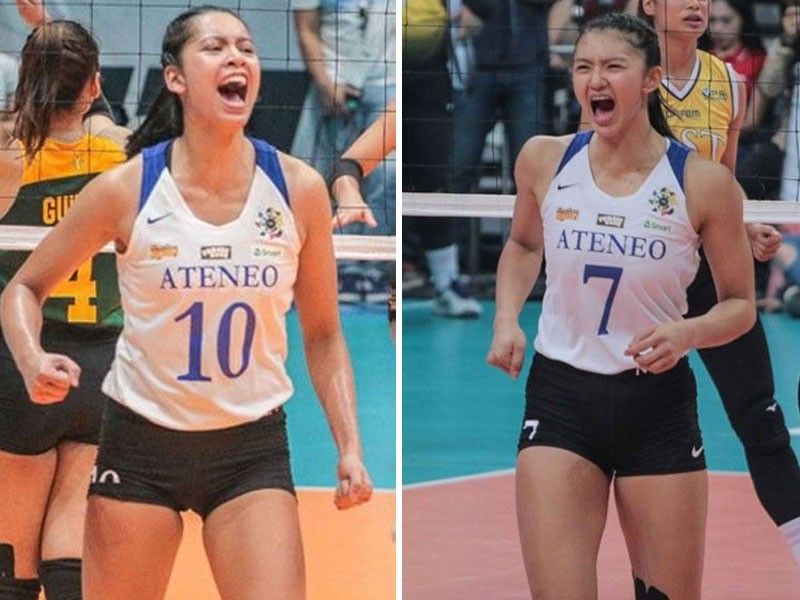 Kat Tolentino and Maddie Madayag
Philstar.com
PSL teams eyeing Ateneo's Madayag, Tolentino
MANILA, Philippines – Top teams in the Philippine Superliga are lining up to acquire the services of Maddie Madayag and Kat Tolentino after towing Ateneo de Manila University to the University Athletic Association of the Philippines women's volleyball title.
Multiple sources said United VC is seriously interested in acquiring the two prized collegiate stars that shut down their collegiate careers with an emphatic victory over University of Santo Tomas in their best-of-three finals series over the weekend.
At United VC, both Madayag and Tolentino will have a chance to be part of a terror squad that already has Filipino-American stars Kalei Mau and Alohi Robins-Hardy as well as Bang Pineda and former Ateneo ace Amy Ahomiro.
The source said Madayag and Tolentino have been in United VC's radar for over a year now and were considered to be part of the squad's future moving forward.
"United VC is seriously pursuing Maddie and Kat," said the source, speaking on condition of anonymity for lack of authority to speak.
"This team pursued Myla (Pablo) prior the start of this season, but was unsuccessful. That's why United VC is leaving no stone unturned in securing the services of Maddie and Kat."
The source added that Sta. Lucia is also eyeing Madayag while Petron is considering Tolentino.
At Sta. Lucia, Madayag will be reunited with former Ateneo teammate Jho Maraguinot while Tolentino will join a solid squad that already has Mika Reyes, Rhea Dimaculangan, Remy Palma, Aiza Maizo-Pontillas and former Lady Eagle Denden Lazaro.
The source, however, clarified that nothing is final at the moment.
"At this point, teams are still in the process of presenting what they can offer. Nothing is definite yet," the source said.
"The next few days will be very crucial because the PSL will open on June 15. So negotiations are still in full swing."