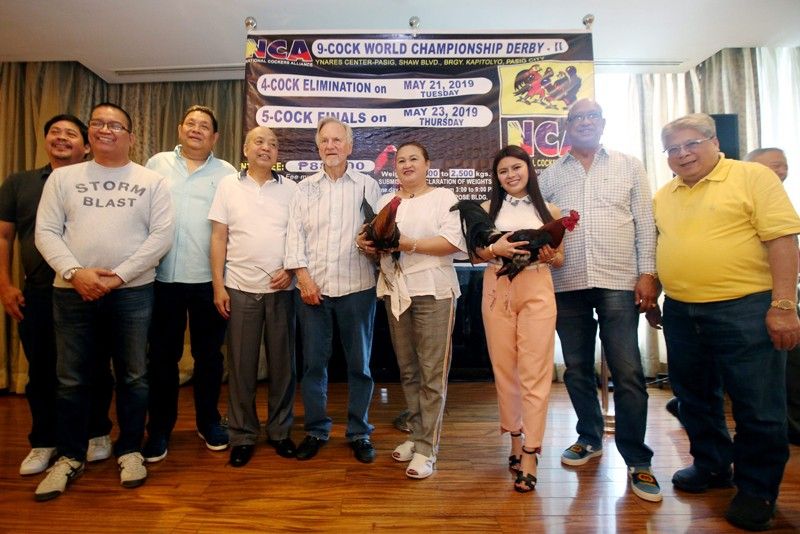 Louie Martinez, Jun Arcilla, Jun Soriano, Gov. Ito Ynarez, Roger Roberts, Osang Dela Cruz, Janine Gonzales, Rick De Guzman and Jun Velasco grace the launch of the National Cockers Alliance Nine-Coach World Championship Derby set to fire off tomorrow at the Ynares Sports Arena in Pasig.
Ernie Peñaredondo
Pasay to host 'Haponesa' derby
(The Philippine Star) - May 20, 2019 - 12:00am
MANILA, Philippines — The series of blockbuster cockfests at Pasay City Cockpit resumes Friday via the Haponesa Four-Cock Derby.
Veteran cocker Boyet Cruz and Haponesa group, supported by National Cockers Alliance members, host the cockfest backed by Sagupaan Superfeeds and Complexor 3000.
Other schedules at PCC include the Frank and Danny Five-Cock Derby (June 7), Judgment Day Four-Cock Derby (June 14), Ahluck Camsur Triple J Four-Cock Derby (June 21) and EMB Five-Cock Derby (June 28).
Meanwhile, the Luzon Breeders Cup Nine-Stag Derby starts on July 12. For more details: call 0945 -4917474; 0939-4724206 or 843-1746 and 816-6750.