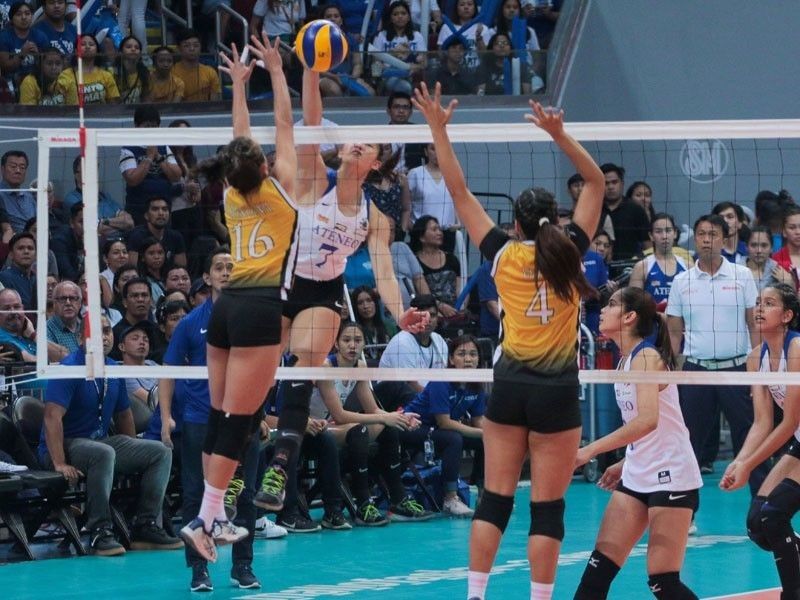 With graduating middle blocker Maddie Madayag at the forefront, the Lady Eagles overpowered UST to force the do-or-die Game Three on Saturday.
Philstar.com/Erwin Cagadas
Lady Eagles, Tigresses clash for all the marbles
Game Saturday
(Mall of Asia Arena)
3:30 p.m. – Ateneo vs UST
MANILA, Philippines – Forget the stats, records or even the proverbial momentum. In a sudden death where everything is on the line, grit, determination and heart will matter in the end.
"In a Game Three, you throw away what happened in the past because all of these will not matter," said Ateneo coach Oliver Almandro on the eve of the keenly awaited Game Three of the UAAP women's volleyball finals.
The Lady Eagles pulled off a 26-24, 14-25, 25-21, 25-15 victory Wednesday to force the winner-take-all match set at 3:30 p.m. at the MOA Arena in Pasay.
Meanwhile, as early as Friday, crowds had formed long queues for tickets at Ateneo, UST, SM and Mall of Asia Arena, guaranteeing a record crowd in what promises to be a thriller of a Game Three.
Powered by this year's MVP Sisi Rondina, the Tigresses dominated the Lady Eagles in the opener of their best-of-three series, 25-17, 25-16, 25-20, last week and looked headed to wrapping it all out in Game Two until they bumped into a more solid Ateneo side and reeled back last Wednesday.
Hastening their downfall is the sidelining of top rookie Eya Laure, who grimaced in pain after tweaking her left ankle at the start of the third set. Wanting to help her team win the crown, Laure returned but just couldn't bear the pain and limped and wept on her way out.
The two-day break, however, should put the Rookie of the Year back in harness for the all-important match
"I'll come back stronger," vowed the 19-year-old Laure.
But the way the Lady Eagles responded to the challenge in Game Two, the Tigresses would probably need more than Rondina and Laure to stop the Katipunan-based squad and end a long nine-year title drought.
"Whoever plays with resolve and the heart will win it," said Almadro, who took over from Thai mentor Tai Bundit last year.
UST mentor Kungfu Reyes agrees.
"Only the toughest will survive, no room for mistakes here," said Reyes.
Almandro expects to draw the best from his senior players headed by Bea de Leon and Maddie Madayag.
"I'm sure they want to end their UAAP career with a championship and the team will do its best to help them achieve it," said Almandro.
Rondina, for her part, is also hell-bent on giving UST a championship in her fifth and final season.
"This is my last game and I want to make it count," said Rondina.