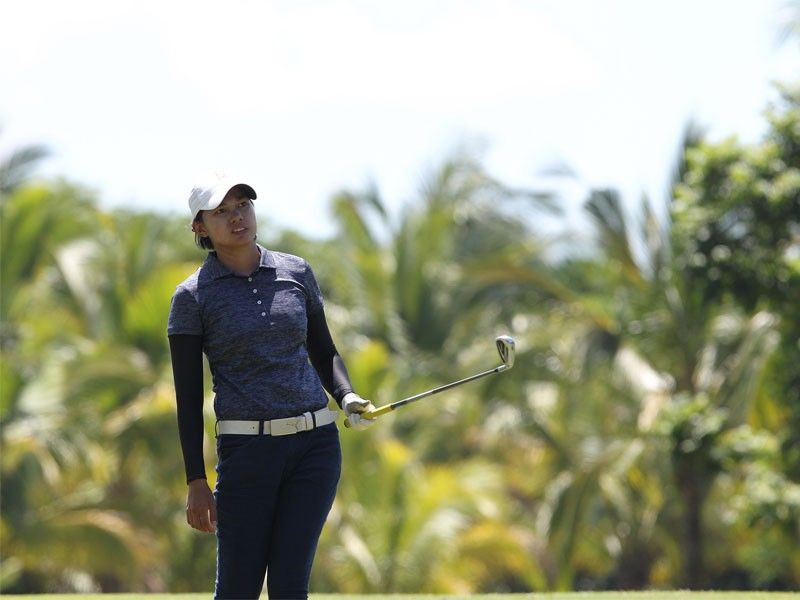 Daniella Uy inches closer to a breakthrough win.
Uy sizzles in the heat as Ikeda flounders
TAGAYTAY – What she had failed to accomplish in team duel, Daniella Uy hoped to achieve in individual play as she took command of the ICTSI Tagaytay Midlands Challenge with a scorching four-under 68 to drive past erstwhile leader Chihiro Ikeda after two rounds at the Midlands course here Thursday.
She spiked her 33-35 round with an eagle on the par-5 No. 6, a feat that more than made up for an early three-putt slip on No. 2. The sophomore pro then shot down three birdies, including a 45-footer on No. 9, to churn out a brilliant output that stood out in another punishing day at the rolling layout.
While Ikeda and the rest of the pack succumbed to debilitating conditions, Uy kept her hot run going after that eagle feat anchored on a superb short game, birdying Nos. 7 and 15 to find herself on top of the heap at 140, going from two-down to three-up over Ikeda.
"Except on No. 2, I was on target around the green. I would get to great positions for birdie chances," said Uy, who with brother Lanz settled for a joint fourth place finish in the Delimondo National Pro-Am which they led in the second round at Splendido over the weekend.
But that failed bid must've toughened up the elder Uy, who matched par 72 in the first round then hit 15 greens and used her putter 29 times yesterday to underscore her splendid all around game. She, however, remained wary of her chances on a course that features reachable par-5s, stressing the need to take it one shot at a time.
"Anything can happen in the final round tomorrow (today). This lead could be wiped out in just a couple of holes if I would be careless, so I need to stay focused to win," said the former Junior World titlist, bracing for a day-long shootout with the veteran Ikeda for the top P150,000 purse.
Near flawless with a 70 in hot conditions in the first round Wednesday, Ikeda had a flawed start this time on shaky putting, bogeying three of the first 12 holes to fall behind by as many as five. But the Fil-Japanese shotmaker battled back with two birdies in the last six to save a 73 and keep Uy within sight at 143 heading to the last 18 holes of the P750,000 championship put up by ICTSI.
"My putting was awful and the greens were a bit slower than usual," said Ikeda, who could've pulled within two if not for a flubbed chip-in bid for eagle on the last hole.
Thai Tiranan Yoopan, seeking to end a long search for a victory in the circuit organized by Pilipinas Golf Tournaments, Inc., shot three birdies but fumbled with five bogeys for a 74, slipping to third at 145, five strokes off Uy, while Pauline del Rosario failed to make her move and stood six shots adrift with a 72 for a 146.
Eagle Ace Superal, who matched Yoopan's 71 start Wednesday, came away with five birdies and an eagle on No. 18 but made five bogeys and three double bogeys to finish with a 76 and drop to solo fifth at 147. The Country Club spearhead, however, remained on track for the low amateur honors with Nicole Abelar at 151 after a 72.
Former leg winner Onkanok Soisuwan of Thailand also floundered in debilitating condition, limping with a 76 marred by a double-bogey on the par-5 18th for a 148 while Gretchen Villacencio recovered with two birdies at the back to salvage a 72 and tie Bahrain's Valerie Tan, who stumbled with a 74, at seventh at 149.
Thanutra Boonraksasat, winner at Southwoods last March, blew a 35 start with a 38, ending up with a 73 and dropping to joint ninth with Abelar, 11 strokes off Uy, in the event backed by Custom Clubmakers, Meralco, K&G Golf Apparel, BDO, Sharp, KZG, PLDT, Empire Golf and Sports and M.Y. Shokai Technology, Inc.