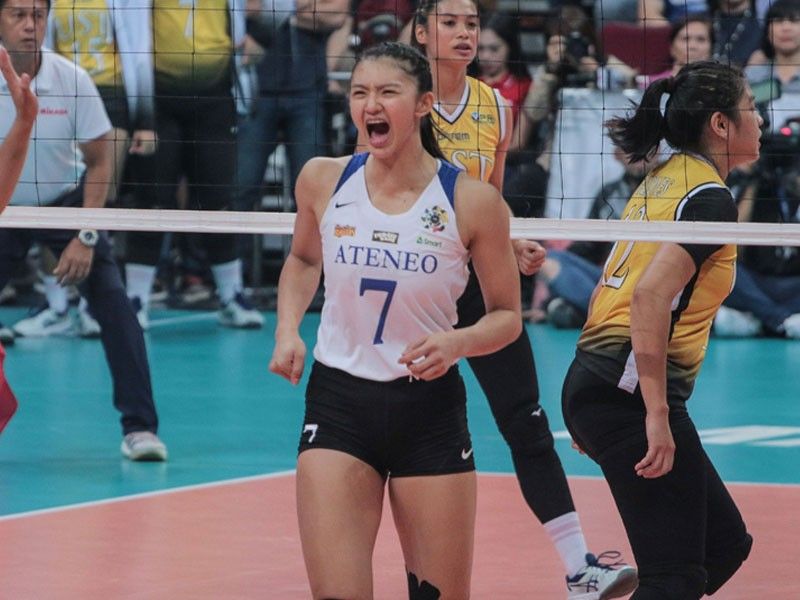 Maddie Madayag took charge for Ateneo in Game 2.
Philstar.com/Erwin Cagadas
Has Ateneo found its mojo in Game 2?
MANILA, Philippines – The Ateneo Lady Eagles finally showed up in the UAAP women's volleyball finals ,winning Game Two in four sets (26-24, 14-25, 25-21, 25-15) to set up a winner-take-all Game Three Saturday.
However, it didn't happen right away.
The malady that has inflicted this Ateneo team — playing one great set then disappearing in the next — almost all season long nearly did them in. We've always pointed out their inconsistencies despite their 12-2 elimination round record, which really doesn't mean much at this stage. Surprisingly for a veteran team like theirs too. I can expect that from NU, Adamson, and UE, but not them.
One can point to Eya Laure's injury as that moment when the pendulum swung this Game Two. Yes, but not entirely. I thought the Lady Eagles looked better than their second set selves and that Dani Ravena's entry also galvanized them.
What makes UST dangerous is their consistency in scoring from all positions in the front court. They have Cherry Ann Rondina and Laure in the wings and KC Galdones and Ysa Jimenez or even Alina Bicar and Caitlyn Viray in the middle. Ateneo… well, you know Kat Tolentino and Maddie Madayag will provide that sock. With Ponggay Gaston and Bea De Leon, you're not too sure. When Bea is on, it feeds off on the rest of the team because she is such an emotional player.
Watching UST all season long, I don't recall head coach Kung-Fu Reyes getting mad on occasion like he would in previous years. He was more chill this year. Even when his team lost some games in the elimination round, they were chill.
I don't think they played under the radar at all. They did after Milena Alessandrini went down. But after that they were blazing again. I don't think I saw a look of desperation on their faces probably until Game Two when they woke the sleeping giant.
Whether a combination of having a nuclear weapon in Rondina, and a shock trooper in Laure, the rookies played with no fear. "Para silang nakasandal sa pader," as that old commercial (Traders Royal Bank, in case this generation doesn't know) said.
That is key — the performances of Galdones, Jimenez, Mafe Galanza and Laure. With that no-fear mindset, they took it to Ateneo in Game One. Hence, the win.
Sure, Ateneo's Achilles' heel since Denden Lazaro's graduation has been their floor defense. Gizelle Tan gave a good account of herself later on. And Ravena, on occasion (I think she will be fine next season).
When was the last time we saw an injury during the finals? That was Season 77 when La Salle lost two players in the finals. Unlike this Ateneo-UST series, that finals was pretty much Ateneo's. This time, well, it also hinges on Laure's health.
I mentioned in an article the previous week that during a conversation with Eddie Laure, Eya's father, he thought that the long minutes has told on his daughter. Not that he is blaming anyone. Her other teammates play just as long minutes. It was more of the nicks and niggling injuries that eventually told on Eya.
Has Ateneo recovered its mojo?
I can' tell.
I did say that this is all about grit. Who will grit their teeth and bear the pain and the pressure?
When asked about Game Two, I said that the first set was key for Ateneo. If they get it, they have something in the bank. If not, they'll be in a hole that I don't think they can recover.
Game Three will come down to which team's stars will step up, how they battle those nerves, and who has fewer errors.
Unlike previous seasons where you know that it is La Salle's to win and La Salle's to lose, this one is unpredictable. It's about one team that is trying to regain its footing against a team on the rise.
And that is why this is why this is such an interesting series.