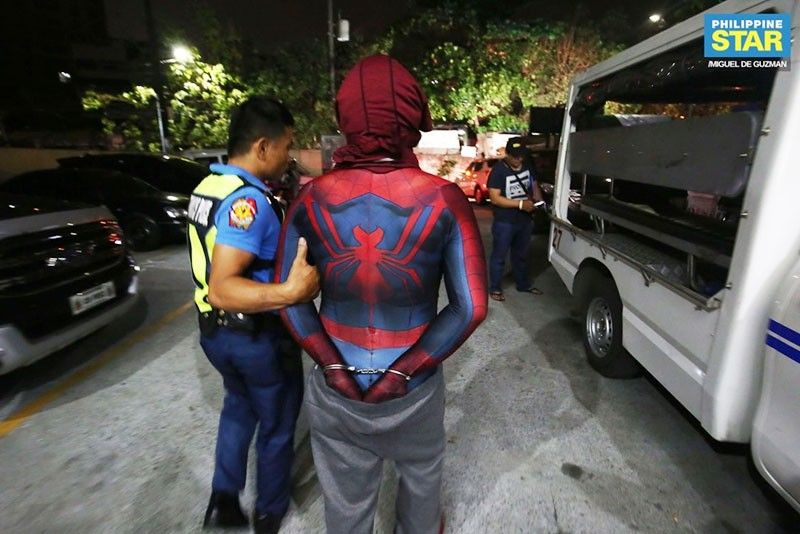 In last night's Game 6 of the PBA Philippine Cup Finals, security was reinforced to cope with a possible repetition of the "Spiderman" incident that marred Game 5 of the series at the Smart Araneta Coliseum.
PBA sets intruder protocol
MANILA, Philippines — PBA commissioner Willie Marcial said yesterday the league has instituted a new protocol to address intruders who enter the court during a game in coordination with venue security and the police.
In last night's Game 6 of the PBA Philippine Cup Finals, security was reinforced to cope with a possible repetition of the "Spiderman" incident that marred Game 5 of the series at the Smart Araneta Coliseum. Marcial said he contacted National Capital Region Police Office (NCRPO) chief Maj. Gen. Guillermo Eleazar immediately after the intrusion last Friday to seek security assistance.
"The PBA assumes responsibility for what happened in Game 5," said Marcial. "I'm not into finger-pointing. I admit there were lapses but they've been addressed. Our new protocol will direct security where to bring an intruder once apprehended at Araneta. It should be directly to the security office, not passing through the corridor which is the access way for players and media."
Marcial said he has reached out to San Miguel Beer center JuneMar Fajardo who went down after colliding with "Spiderman," identified as Paolo Felizarta, 31, of Imus, Cavite. Felizarta, dressed in a "Spiderman" costume, streaked onto the court with Magnolia up, 84-78, over San Miguel Beer, time down to 3:08. He ran smack into Fajardo, bumped into Christian Standhardinger and was confronted by Chris Ross before security men bodily led him away. Fajardo said he was hit on the jaw and got dizzy.
"JuneMar told me he plans to visit 'Spiderman' in jail," said Marcial. "Ping (Magnolia's Marc Pingris) also told me he'd like to visit." Felizarta was brought to the Quezon City Station 7 jail in Cubao after the incident. He has been charged with unjust vexation, alarm and scandal. Felizarta's mother has appealed to the PBA for leniency. Felizarta is eligible for bail but the process will probably take until Friday. Since it's a minor offense, the bail will likely be set at P1,000 to P2,000. Marcial said he'll talk to Felizarta once "Spiderman" posts bail.
Marcial said a check with CCTV monitors showed no one in a "Spiderman" costume entered the Big Dome last Friday, meaning Felizarta put it on once inside. Marcial said the PBA will investigate what ticket Felizarta had to determine its source, if given or bought. Felizarta's family is apparently in the candle-making business. Marcial also said he will look into the involvement of players in striking Felizarta and a person who approached the San Miguel bench to retrieve the "Spiderman" costume. Marcial confirmed that Felizarta was the only person jailed.
"I think when JuneMar went down, some people thought 'Spiderman' deliberately hurt him so it triggered a mob reaction to go after him," said Marcial. "Obviously, we don't want a repeat of this incident and if ever, we will be ready to handle it."
It's not often that fans interrupt the course of a sporting event but history shows it's almost impossible to anticipate. In 2005, a fan Greg Gall entered the field to grab the football from a confused Brett Favre during an NFL game between the Cincinnati Bengals and the Green Bay Packers at the Paul Brown Stadium in Cincinnati. Gall, 31, was arrested and charged with criminal trespass and disorderly conduct. In 1993, a fan James Miller parachuted into the ring in the seventh round of a world heavyweight boxing title fight between Evander Holyfield and Riddick Bowe at an open-air arena in Las Vegas. Fans and security attacked Miller who was knocked unconscious. Miller was later charged with dangerous flying and released on a $200 bail. He did a few more intrusions in sporting events and in 2003, committed suicide.
Felizarta said he pulled his stunt to draw attention to his crusade to vote wisely in today's elections, to appeal for peace in the country and to pray for God's blessings. While there may not have been any malicious intention in Felizarta's case, resorting to acts that cause public disorder or alarm will not be tolerated by police or security. If Felizarta hadn't bumped into Fajardo, fans would've probably laughed off the stunt but security would've still taken him into custody for the scandal.